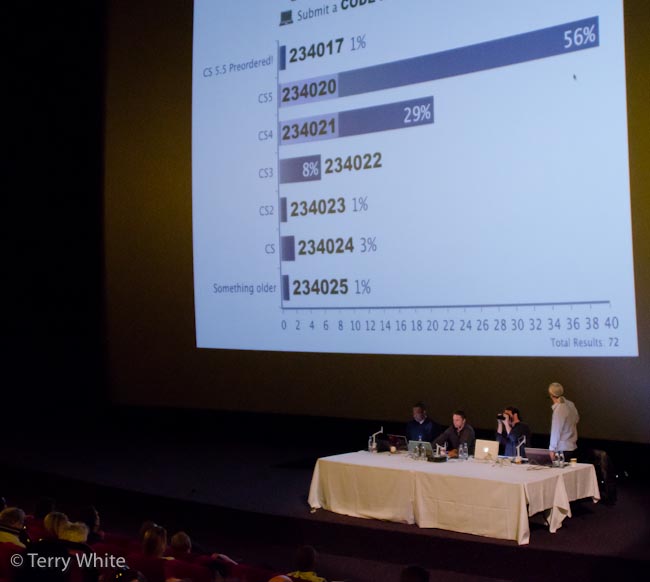 If you've attended any of our tour stops on the Adobe CS5 Evolution Tour or if you were at the Adobe Photoshop World Keynote in Orlando, then you may have seen us do a live poll of the audience. Rather than simply asking for a show of hands, audience members participated with their mobile devices. Polleverywhere.com is a web based service that allows you to setup and conduct Live Polls in real-time. The cool factor is that the poll results come in and can be displayed in real-time. This usually gets people a little more involved when they see that they can actually drive the results right in front of their eyes.
Another option is the ability to create a custom URL where your users will go on their devices and instead of keying in the onscreen codes, they'll actually see the poll questions on their own screens and the responses are then tappable. When you switch to the next question their browser will update on the fly.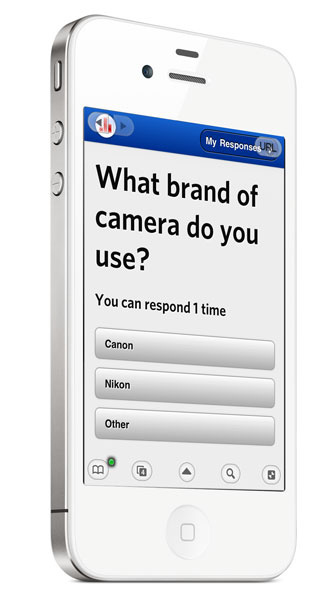 How does it work?
Once you setup an account, you can then start to create your Polls ahead of time. During your event, class, seminar, etc. you can then bring up the site, go full screen and people can answer the questions by either using SMS texting (standard text messaging rates do apply) to a local/regional number for the area that you are conducting the poll in OR they can simply go to the mobile friendly poll4.com web page on their device and enter the codes there for free. You can even enable the Poll via Twitter so that people can Tweet their responses and lastly there is the option to have a Private Link like this one. The page uses Adobe Flash to update live and in real-time. As the votes come in the bars will move for all to see. The data is saved to your account and you can close the polls whenever you like to prevent further voting.
If you don't want to do it live there are several options for embedding the polls into your website, like I've done here (click on your answer):
The results can also optionally be embedded for all to see as either LIVE update via Flash:
Or the results can be a static image that doesn't require Flash but of course will not update live and you'll need to refresh your browser to see the updates:
How much does it cost?
You can get a FREE account, but your free account will be limited to 30 responses per poll. If you need more responses then you'll have to sign up for one of their paid plans. You can upgrade or downgrade the plans as needed. In my case I went with a higher plan for a couple of months and then downgraded it once I was done.
Find out more, including pricing options here at Polleverywhere.com