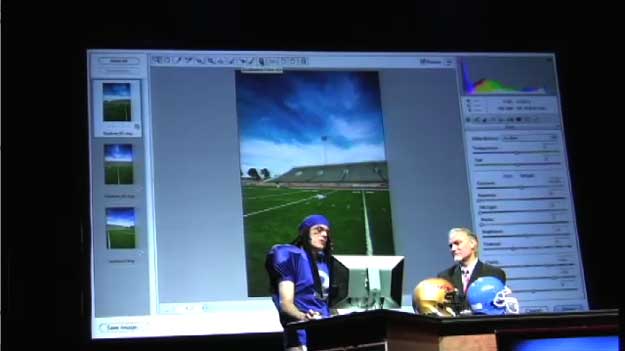 I had a blast at last week's Photoshop World Conference in Boston! It was great to see so many of you there and it was a real treat to see and meet so many of the readers of this blog. The entire week was upbeat and people were really jazzed about all the sessions and of course the after hour events, parties and the insanely fun Midnight Madness event. If you've never been to Photoshop World, you owe it to yourself to try and make it at least once in your career/life. The conference was so good that even the folks over at Macworld couldn't help but say so.
The Game Is On!
Once again I was at the Adobe Photoshop World Keynote address. In honor of this year's Photoshop World theme "The Game Is On!", Adobe' SVP Johnny L was on hand and playing right along with the theme along with Photoshop Product Manager John Nack and Adobe's Creative Director Russell Brown. Russell did a fantastic demo on several of the new features in Photsohop CS4 and Photoshop CS4 Extended. As a special treat, you can see the Adobe portion of the keynote here on my Adobe Creative Suite Video Podcast. See the cool things that Russell showed including a new Watermarking Panel exclusively for NAPP members. Although I'd love to show you the entire keynote with all the cool videos by the Photoshop Guys, it would spoil it for the attendees of the upcoming Photoshop World Las Vegas in October.
Although I don't teach any of the Photoshop classes at Photoshop World, I do usually have a couple of InDesign classes on the conference track as well as Creative Suite presentations in the Adobe Theater. Both my classes and theater presentations were PACKED! This puts a smile on my face because the classes run concurrently with other classes taught by some of the best Photoshop instructors in the world. So it's really an honor to have so many people choose my classes over others they could have attended. Thank you!
The clock is ticking for Photoshop World Las Vegas and I can't wait until October! Hope to see you then…