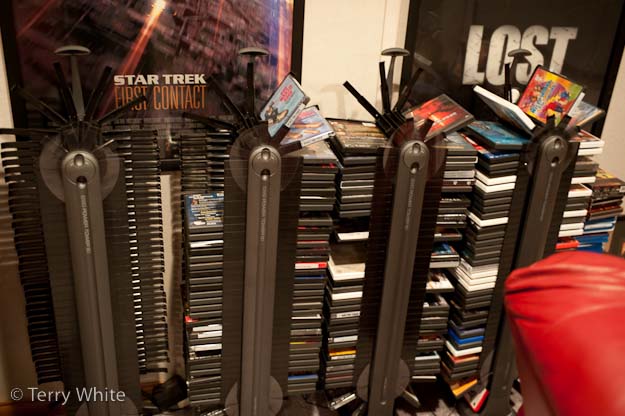 About a month ago I started the process to rip (convert) all of my movie DVDs to my iTunes server (an intel iMac with a Drobo attached running iTunes). The idea is to basically create my own video on demand system so that any movie I have could be watched on any of my TV's via an Apple TV.
–
The first 80+ DVDs are done
So I've been using 3 Macs in my house to convert these DVDs at my leisure. I've been using HandBrake to rip these DVDs into .MP4 format. I learned a lesson about the Handbrake presets midway through the process. At first I was using the Apple TV setting so that I could retain the Dolby Digital 5.1 surround track (a must!). However, the downside to this preset is that MP4's created this way will only play on a computer or an Apple TV. This means that If I wanted to take a movie with me on an iPod or iPhone I'd have to rip a second version. Then one day it dawned upon me that when you buy a movie from the iTunes store it includes the 5.1 surround track AND it's compatible with iPods and iPhones too. So that led me to take another look at the HandBrake presets.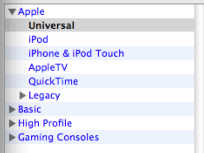 I discovered that the "Universal" preset is the one I really want to use for the best of both worlds. It does include the 5.1 surround sound track and it will make an MP4 file that work on iPods, iPhones, Apple TVs and computers. One movie file that does it all.

I didn't go back and re-rip the ones that I had already done with the Apple TV preset. I figure I could do this on an as needed basis. I did however, test the quality of the "Universal" preset and I was happy with it on the big screen.
–
Is it worth it?

It's a slow process! Even though I'm only a quarter of the way through this project, it has already paid off. I have rediscovered some movies that I bought and never watched. Some were even still in the shrinkwrap. Being able to pull up and watch any movie I own on any one of my HDTV/Apple TV's is really cool. It's just as gratifying as being able to listen to any song I own without having to dig out a CD. Last weekend we watched all three of the original Terminator movies to get in the mood for the upcoming Terminator Salvation.
The ripping continues! At this rate I should be done in July or August. Depending on the speed of the computer it could take anywhere from 35-50 minutes to 5-7 hours to rip one DVD. Intel Macs like my Mac Pro do it very fast. Older Power PC Macs take hours. I'm thinking of firing up a 4th Mac (iMac G5) that's just sitting there for sale. Might as well use it until I find a buyer. Although it takes hours to rip a movie on this system, that's one less movie I have to do on the other 3.