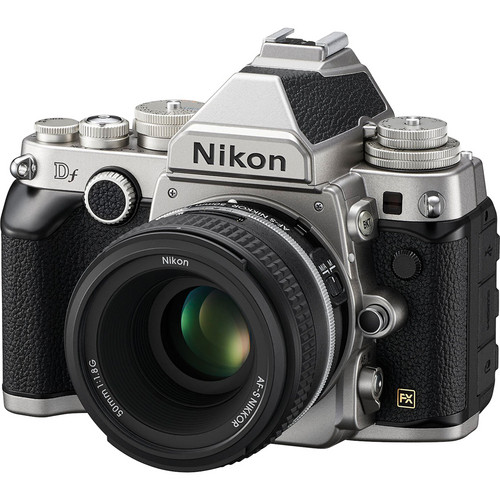 Nikon has announced the Nikon Df. Imagine a classic SLR camera but instead of it being filmed based, it's all digital on the inside. This Full Frame (FX) DSLR definitely has a sexy look to it. It's hard not to smile and have a nostalgic feeling when you look at it. On the inside it's all digital.
16.2MP FX-Format Sensor and EXPEED 3 Image Processor

The 16.2 megapixel full-frame (FX) CMOS sensor and EXPEED 3 image processor work in tandem to produce overall high image quality with notable detail, dynamic range, color accuracy, and low-light sensitivity to a native ISO 12800, which is further expandable to ISO 204800. This still image-only camera is also well-suited to working with moving subject matter with a top 5.5 fps continuous shooting rate using either the viewfinder or when working in live view.
AF-S NIKKOR 50mm f/1.8G Special Edition Lens

Included with the silver Df body is the AF-S NIKKOR 50mm f/1.8G Special Edition lens; a fast normal-perspective lens that features a complementary design with enhanced knurling on the focusing ring to emphasize the manual shooting capabilities of the camera. When using autofocus, a Silent Wave Motor (SWM) is integrated into the lens to enable fast, precise focusing that is equally quiet and smooth. One aspherical element is also incorporated into the optical design to help minimize chromatic aberrations and maintain high image sharpness and clarity.
39-Point Multi-CAM 4800 AF Sensor

Benefitting the exceptional image quality is an apt AF system that employs 39 distinct AF points, including nine cross-type sensors, to quickly acquire focus in a range of lighting conditions, from -1 to +19 EV. An intelligent Scene Recognition System, typically reserved for exposure metering, benefits the focusing performance by analyzing and identifying subjects to suit panning and tracking-based shooting styles. Depending on the situation, 9, 21, or 39 point arrays can be selected from and seven centrally-located points are compatible with f/8 or faster lenses, extending the auto focusing abilities of the longest lenses used in conjunction with teleconverters. When using this phase-detection focusing method, selectable AF-area modes include: Single-point AF mode, Dynamic-area AF mode, 3D-tracking mode, and Auto-area AF mode.When working in live view, a contrast-based AF system is employed to acquire focus precisely and can function in continuous, full-time servo mode to better-suit working with moving subjects. Four distinct AF-area modes are available when using the contrast-detection focusing method: Face-priority AF, Wide-area AF, Normal-area AF, and Subject-tracking AF. Additionally, benefitting working with manual focus when in live view, the image can be magnified up to 19x for critical examination and easier focus confirmation.
Scene Recognition System

The intelligent Scene Recognition System with 3D Color Matrix Metering II utilizes a 2,016-pixel RGB sensor to evaluate and analyze all aspects within a scene, including brightness, contrast, subject distance, and the scene colors, to quickly determine an accurate exposure and white balance setting to best render the scene at hand. The information gathered is also checked against onboard reference images to ensure consistency from image to image in regard to exposure, white balance, i-TTL flash settings, and subject-tracking AF performance.
Other Camera Features

Picture Control modes can be directly accessed via a dedicated button and allow you to set predefined looks to imagery in-camera, and include Landscape, Monochrome, Neutral, Portrait, Standard, Vivid, and user-customizable settings.
Active D-Lighting helps to preserve both highlight and shadow details when working in contrast-rich scenarios, such as backlit lighting. Utilizing the EXPEED 3's processing power, a more controlled image will be produced with brightness values closer to how they are naturally seen. This mode is suitable for working with moving subjects.
Built-in HDR works to extend the tonal and exposure range of a single image by recording two separate exposures and blending them together in order to gain greater highlight and shadow details with an extended range of mid-tones. The smoothness of the edge where the two separate exposures meet can be adjusted for more apparent softness to benefit images with a greater range of encompassed exposure values. This mode is best suited for working with stationary subjects.
The accessory terminal supports the use of the optional WU-1a Wireless Mobile Adapter to enable remote, instant transferring of photos to Android and iOS mobile devices for sharing online. The GP-1A GPS Unit is also supported, which automatically adds locational information to images' metadata for geotagging applications.
Spot White Balance enables precise, selective control of the white balance setting by simply pointing and metering a pure white portion of the scene in order to set the proper color balance when working in live view.
One memory card slot is available and accepts SD, SDHC, and SDXC type memory cards, including UHS-I SDHC and SDXC cards.
An in-camera virtual horizon can detect both rolling (horizontal inclination) and pitching (forward or rear inclination) directions and display an electronic level on the LCD when working in live view. The rolling direction of tilt can also be displayed within the viewfinder.
Supported languages: Arabic, Chinese (Simplified and Traditional), Czech, Danish, Dutch, English, Finnish, French, German, Indonesian, Italian, Japanese, Korean, Norwegian, Polish, Portuguese, Romanian, Russian, Spanish, Swedish, Thai, Turkish, and Ukrainian.
The Bottom Line
I guess the first thing that came to my mind when I saw this camera was "hey, Nikon just came out with a 'designer' DSLR". It looks nice, the specs are decent, but it's not on my wish list. It's on my "would be nice to have" list. The price is probably the biggest stumbling block. It's more than a D610 and less than a D4, however the specs don't really make it worth the extra bucks for me and since I have both a D600 and D4, I don't really have a need for one in the middle. Could I sell my D600 and Df? Sure. However, then I'd lose the ability to capture DSLR video, that's kind of a deal breaker for me. If you're strictly into still photography AND you're looking for a cool looking full frame DSLR this is it. You can pre-order yours here.
I'd be interested to hear your thoughts. What do you think of this camera? Are you ordering one? Sound off in the comments below…