After reading my buddy Jason's review of the Jawbone Up over at BestAppSite.com I decided to order one. Like so many of my fellow Americans I'm simply not active enough. I know it. No need to tell me. The idea behind the Up is that you wear it all day (and night) and it monitors your activity/steps. You can sync it with your smartphone and get reports anytime you want. You can see how many steps you've taken on a given day as well as how many hours you've slept and if you're diligent about entering the food you eat, it can monitor that too. If you have friends that use the Up you can become buddies and see each other's progress. This is where my competitive side kicks in as I want to have as many or more steps than my friends on a given day. Having used the Jawbone Up for a couple of weeks now I can give you guys some feedback. Before I jump into the feedback though, I recently received the Nike Fuelband as a gift! Wow! Now I can compare and contrast between the two and tell you which one I like best at the end…
The Jawbone Up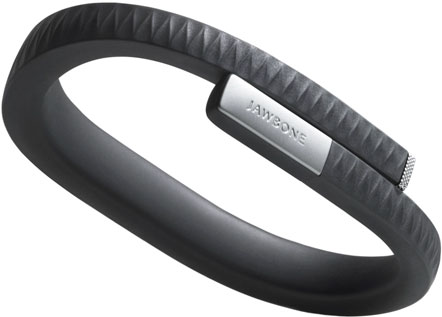 You can buy the Up in different colors and sizes to fit a variety of tastes and wrist sizes. I got the largest one and while it fits around my wrist, the two ends do tend to protrude out a bit. While this really doesn't bother me during the day it definitely makes it very uncomfortable at night and now I almost never sleep in the thing. There is a button the end of one side and this button allows you to press and hold to switch it from day to night (sleep). If I press it to sleep at night and then take it off and set it on my nightstand. I always find that at some point it has automatically switched back to day before morning. This doesn't happen when I actually wear it and therefore it really screws up the sleep readings. While I get that Jawbone is trying to track your sleep pattern and the times you get up in the middle of the night as well as deep sleep vs. light sleep, it really should have an option just to say I'm sleep and now I'm awake without having to actually wear it all night.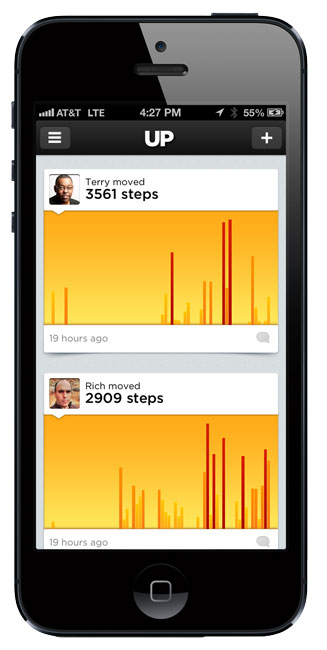 It does a good job of tracking my steps, however, the only way to see your reading is to plug it into your smartphone and run their free App. There is no information displayed on the band itself. It charges over USB and the charge lasts a good 7-10 days. However, my biggest pet peeve with the hardware is that it comes with a proprietary USB adapter to charge it with. There is no way to just plug the band in itself and charge it. Lose the little dongle and it will cost you $10 for a replacement. I misplaced mine for a few days and it meant that I couldn't use the Up as I had no way to recharge it. I figured I lost it somewhere on the road and ordered two replacements. Of course I found it after the replacements shipped.
The Nike FuelBand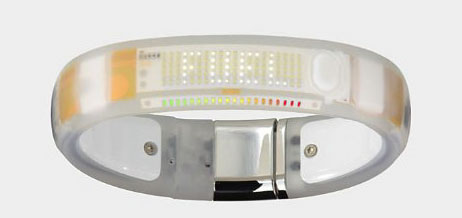 Nike has been in this game a lot longer with gadgets like the Nike+iPod kits. When I got the FuelBand, it wasn't as clear to me as how to set it up and get going. I had to read the instructions. First of all I got the Medium/Large one. In order to make it Large you install an extension to the band. I couldn't figure out how to do this for the life of me and friend had to help me out. It required a supplied tool. Once I got the extension installed, the band fit perfectly and seems a bit more comfortable than the Up. As a side note, when I snapped it closed for some reason I felt like I was now part of the Borg collective. My eyes opened a little wider too. Weird. The next thing I noticed was that there was a USB cable in the box and I thought "here we go again with a proprietary connector", but I was mistaken. It was merely a USB extension cable. The FuelBand has a standard USB plug on it! Yay! In order to set it up you must first plug it into a computer! I thought this was kind of odd in this age of "PC Free" computing and knowing that there are people out there that only have tablets and smartphones and no computer. Nonetheless, I plugged it into my MacBook Pro, downloaded the App and configured the band on the Nike.com site. Once you're on the site you give it your height, weight and preferred arm to wear it on. This is important to figure out how many calories "you" burn based on your steps/activity. I charged the band up and I must say it has the brightest most annoying LED display that I've seen on any device. This thing can light your whole room up. I definitely won't be charging this in my bedroom at night. While the LED display is super bright, the good thing is that it actually has a display. So unlike the Up you can check your steps, calories burned, Fuel points, and most importantly the current time! If you're going to wear an electronic band around your arm the least it can do is act as a watch. The display also has a series of small dots that go across from red to green as you reach your daily goal. This is nice as it's always there even if you just press the button to check the time. You'll see the time and the dots. The best part of the Nike FuelBand is that it syncs with your iPhone via bluetooth. There's no need to take it off your wrist just to sync it to their free App.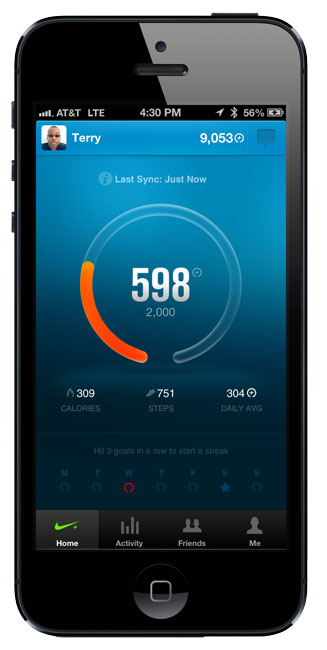 Nike FuelBand vs Jawbone Up. Which one is better?
I know you'll hate this answer, but it really depends on what you're looking to track? If you're looking to track just your activity, then the Nike FuelBand wins hands down. If you're looking to enter other things like meals and sleep, then you'll want to go with the Jawbone Up. Since I got the FuelBand as a gift I was able to compare the two side-by-side, but now if you said OK go out and buy one, it would be the Nike FuelBand for me. I already have another App to track meals so I don't even use that feature of the Up. The sleep tracking is nice, but it's just too uncomfortable for me to wear at night. I like the fact the at the Nike FuelBand has a display and can sync wirelessly. It also wins because I charge it without having to carry around a special dongle. Since I was already using the Nike+iPod for running, the FuelBand stats go onto the same account. If you plan on getting wet, in other words doing a lot of activity around water, the Jawbone Up is more water resistent than the Nike FuelBand is. Supposedly you can shower with the Up on, but I don't risk it. The only other consideration you might have is that Nike has no plans to make an Android version of their App. Therefore if you're an Android user you'll either have to go with the Up (they've been promising an Android version since last year) or just sync the FuelBand to your computer.
For me the winner is the Nike FuelBand!
You can get the Nike FuelBand here.
You can get the Jawbone Up here.