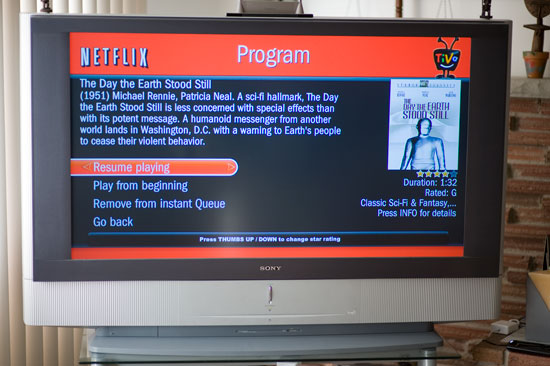 It's here! A day I've been waiting for. You might remember my review of the LG Blu-ray player that offered Netflix Streaming. I actually only had the player for a few days before seeing the announcement that Netflix was bringing this technology to the boxes that I already had and love. TiVo HD! I boxed up the LG player and returned it to Bestbuy and patiently waited for Netflix/TiVo to roll out this new service. It actually got rolled out last week while I was traveling on business, so I didn't get a chance to test it until this past weekend. I'm very impressed with the TiVo implementation.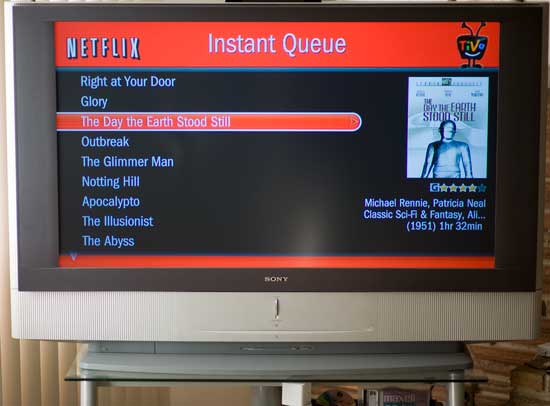 Setup was a breeze
Since I had already gone through it once on the LG player, I kinda knew what to look for on TiVo. Basically you have to activate your TiVo box on your Netflix account. You do this by starting the process on the TiVo, which will display a code. You log into your Netflix account on your computer and enter that code. My activations took less than a minute and my Instant Play Movie queue was on my TiVo's menu. You are allowed up to 4 Netflix streaming devices per account. Although I had properly deactivated the LG box before returning it, that slot was still taken up as Netflix doesn't clear it right away. It could take several weeks. I assume that this is by design. This way it stops you from illegally sharing your Netflix account with all of your friends. "Hey Bob, can I watch a movie tonight? Sure, just give me your code and I'll key it in. Once the movie is over, I'll delete it." Luckily for me I only needed the three remaining slots for my 3 TiVo HD's. Movies are placed in your queue from your computer. Currently there is no way to manage your queue from the TiVo itself (except for removing a movie that you've just watched).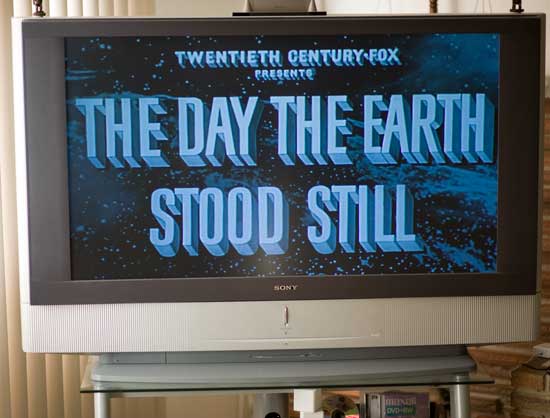 Over 12,000 movies is a good start, but…
Netflix offers over 12,000 movies on demand at no additional cost to your Netflix unlimited account, nor are there any added TiVo service charges. While 12,000 movies sounds like a lot, most of these titles are older movies. I haven't seen very many (if any) new releases available for streaming. Since it doesn't cost anything more, I'm not really complaining. However, I would love to see a lot more and newer titles in their catalog.
 
Playback quality
I only watched one movie so far, the original version of "The Day the Earth Stood Still" and it's a black and white movie. However, the TiVo did fill my widescreen TV and the quality was better than I expected. I didn't have any of the issues I had with the LG player which randomly played some widescreen movies in 4:3 format. Streaming started almost right away and played continuously with no hiccups. I haven't seen anything around HD content yet. However, since Netflix offers HD streaming to XBox 360, there is no reason not to have it on TiVo HD.
 
How does this compare to Apple TV?
Apple always win for a slick interface and good user experience. However, TiVo and Netflix hit a homerun on this one. Other than wanting newer titles and HD streaming, I have no complaints. Apple TV is still great for that pay-as-you-watch experience when it comes to movies. You only pay when you want to watch something that you don't already own. With that being said, I think there is room for BOTH models. Netflix's subscription model is very attractive to me. It's a monthly charge and I don't have to think about or worry about how much content I consume. Apple TV would be more popular if Apple offered a choice of a subscription model AND a pay-as-you-watch model. As Netflix continues to bring on the heat, I'm sure Apple is having to re-think their strategies.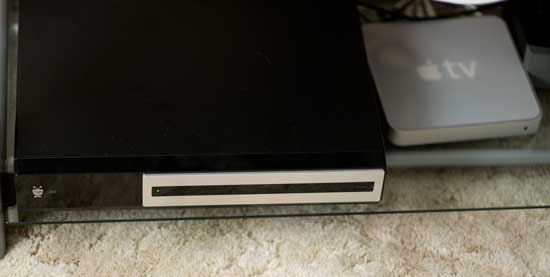 The Bottom Line
If you have a TiVo HD and a Netflix account, this is a no brainer. Just do it! If you're in the market for a better DVR experience than the one that came from your cable company, there is no better choice than TiVo HD. Until Apple offers a subscription model, Netflix will continue to be my primary source for movie rentals. The race is on for streaming full HD. Let's see who offers the most compelling solution in the coming months! Get a TiVo HD today. Amazon has them for $264.67 (or less). So many choices in home entertainment and so little time to enjoy them 🙂