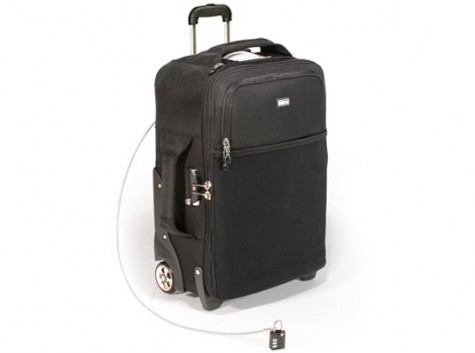 I have a wide assortment of computer bags, suitcases and camera bags. Different sizes and used for different needs depending on how much gear I want to carry and how long I'm going to be gone. However, I wasn't really happy with my large camera bag only because it always seemed like I could never fit everything I wanted to carry. If I wanted to carry two camera bodies, then that would mean leaving a lens or speedlight behind.
The ThinkTank Photo Airport International
One of my favorite birthday gifts this year was the The ThinkTank Airport International camera/laptop bag. This is definitely one of the most well thought out bags that I've ever seen. It was designed from the ground up to carry gear! I can really appreciate great design and this bag really gets me excited. There was a lot of attention to detail here. First off the main compartment can be configured in a infinite number of ways because of the removable velcro dividers. My main objective was to configure it in a way to fit two camera bodies, 3 lenses and at least one or two speedlights. I was able to achieve that and even have enough room for a forth lens.
Pictured below I have my Nikon D5000, Nikon D700 with battery grip and 70-200 f/2.8 VR lens, 28-70mm f/2.8 lens, 85mm f/1.4 lens, Sigma 10-20mm wide angle lens, Sekonic light meter, SB 800 and SB 600 speedlights, long USB cable for tethering, extra batteries and memory cards, 2 Pocket Wizards and my Expo Disc. Since the D5000 is so small I can even insert another divider to make another small compartment.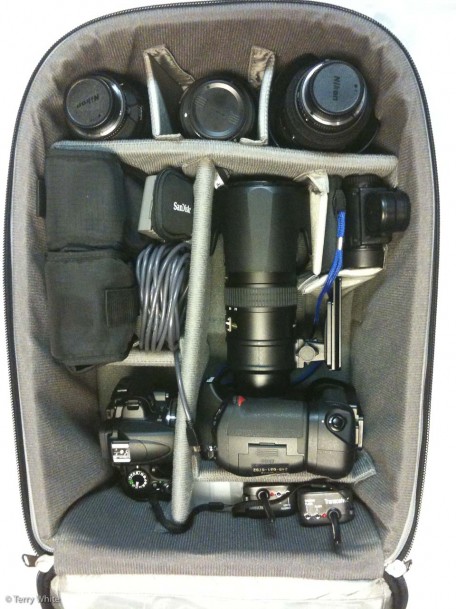 I could also fit all my cables, a couple Pocket Wizards and a light meter before even touching the pockets in the flap.
It holds my MacBook Pro too!
I would have been happy just to get all my camera gear in this baby. However, using the optional "low divider" set I was even able to configure it in such a way that my laptop can go INSIDE! Normally I would travel with a camera bag, a computer bag and a checked bag for my clothes. Now I could travel with the ThinkTank bag and small carry on bag for a couple of days worth of clothes. Although I already had a laptop sleeve that I was happy with, I went ahead and ordered the ThinkTank Artificial Intelligence "15 notebook case. Again, there was thought that went into this. The A.I. notebook case has an outer pocked for your accessories such as a power cable, mouse, etc. and even a document pouch on the back. Something my other sleeve lacked. ThinkTank Photo also did a smart thing by putting business card holders on both bags. This way if you happen to accidently leave something behind (as I've been known to do!), someone can see whose bag it is at a glance. Also there's room for more than one card so you don't have to fumble through your bag or wallet when someone asks you for your card.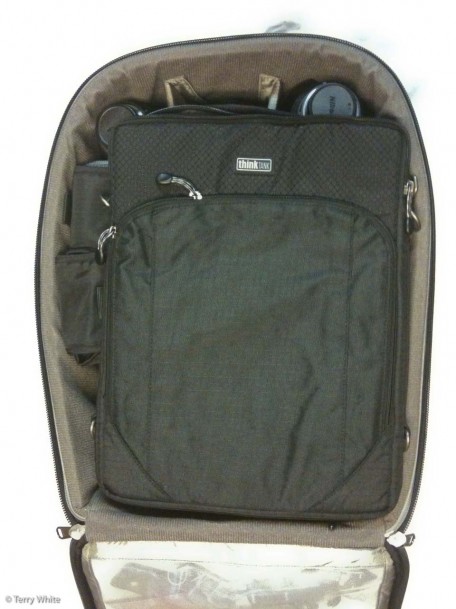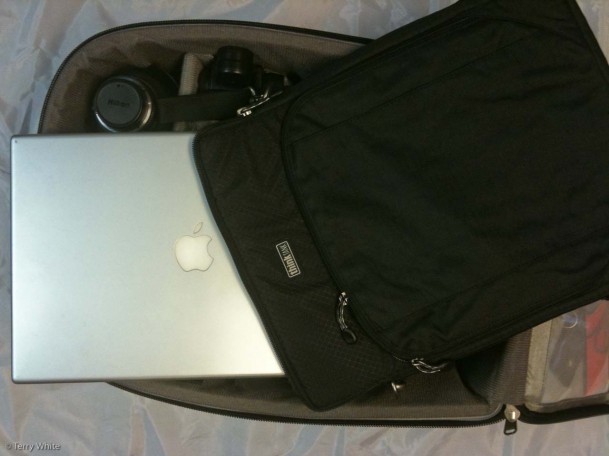 It's even security minded
Now keep in mind that I don't ever plan to have this bag out of my sight when I travel and as I always say, "if I have to check my gear, then I'm not going!" However, I can appreciate the added security features they've included. There's a built-in lock to lock the zipper to the main compartment. There's also a cable lock built-in so that you could secure the entire bag to a heavy surface, such as the desk in your hotel room. You can be even safer by just not leaving your gear unattended!
The Bottom Line
This thing defies the law of physics. I can fit more in it than my old bag which was larger! Having a wheeled camera bag that doesn't look like a camera bag is also a nice deterrent for would be thieves. Although they do make a slight larger version of this bag called the Airport Security, I like the fact that this one is rated to fit in the smaller bins for international flights. They also include a tripod holder which attaches to the side. However, at that point it's a dead giveaway that you have a camera bag.
The TinkTank Airport International goes for $329. The "low divider" set goes for $49. The 15" AI Laptop bag goes for $49 (they make a "17 version for $59)