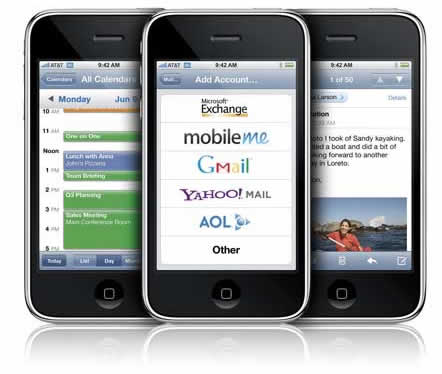 Now that the dust has settled a bit on yesterday's announcement of the iPhone 3g, a few little tidbits are coming to the surface:
The iPhone 3g will REQUIRE in-store activation! So no more picking one up, never activating it on AT&T (or whomever) and jailbreaking it just to resell it.
The AT&T data plan is going up by $10/month to $30/month instead of the original $20/month. Rod Harlan has an interesting take on that and the price comparison between the iPhone 1.0 and iPhone 3g.
As it stands right now, no online orders for the iPhone. You'll have to go into a retail outlet to get one!
See the Steve Jobs WWDC '08 Keynote introducing the iPhone 3g and iPhone 2.0 software update here.
So it looks like even though the entry price for the iPhone is only $199, Apple has tightened up on making sure you activate your iPhone with the appropriate carrier (and sign up for the 2 year contract). Also for those that ask the question: "why is it that I can get a 16GB iPhone 3g for $299 while an iPod touch 16GB goes for $399?", the answer is with the iPhone you can't use it without signing up for phone service. Apple appears to be taking a more traditional method of using the service contract to bring down the entry price of the phone. It will be interesting to see as time goes on, whether they will officially offer an unlocked version here in the states at a higher price?