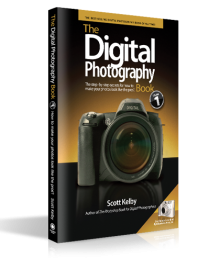 You probably already have this book (it's the #1 bestselling book on digital photography ever), and if you like that book, you'll love Scott's brand new tour based on the book series! When I started to take my photography more seriously this was one of the 1st books I read from cover to cover. It certainly filled in a lot of gaps for me and I learned a ton.
If you don't have the book, here's the link (you'll love it!).
He also wrote three bestselling follow-ups to the book, Volumes 2, 3, and 4 (all different content).
Well Scott is about to kick off a tour that is based on his Digital Photography Book series (and is taught by Scott himself).
Here's the link for more info on the tour. Even if you can't make the tour, you should definitely check out all four books. They also come packaged as a set here.
Also here's a video where Scott explains what the tour is all about. I hope to catch one of the tour stops and maybe I'll see you there too: