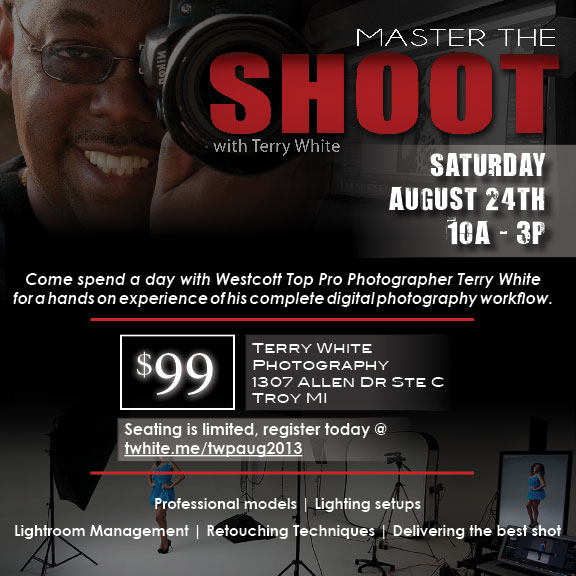 By popular demand I'm doing a digital photography workflow workshop. The 1st one will take place Saturday, August 24th, 2013 from 10 AM – 3 PM in my Troy Michigan photography studio. After that I'll head to Cincinnati Ohio for another one on September 14th.
I'll walk you through my complete end-to-end digital photography workflow. You'll get a chance to see how to work with models, how to light for beauty and fashion photography as well as the secrets to my workflow for bringing images into Lightroom 5, organizing, picking the best shots, delivering client galleries and retouching the final selections in Adobe Photoshop.
Seating is LIMITED! So Register Today!
Register for August 24th, Troy MI
Register for September 14th, Cincinnati OH
Why attend this Master the Shoot workshop?
There are several great workshops that concentrate on lighting or photography techniques, what makes this workshop different is that I will take you through the entire process from start to finish. You'll learn tips and tricks to speed up your entire workflow including image management and retouching techniques that will help you deliver the best shot.
What should I bring?
If you want to participate in the portrait shoot bring your camera.
If you want to follow along with the workflow bring your laptop with Adobe Photoshop Lightroom 4 or 5 and Photoshop CS6 or higher. While this will be mostly a lecture on the workflow and retouching techniques that  I use, you should be able to follow along with many of the tips and best practices. Please note: Everyone is going to have different configurations and shoot slightly different images and therefore it will NOT be a hands on class step-by-step session. If you bring your laptop you're bringing it as a convenience to you, as there will not be time for me to work with everyone one on one. With that said, you will walk away with my notes/workbook so that you can go back and practice the main points of the day.
Related event