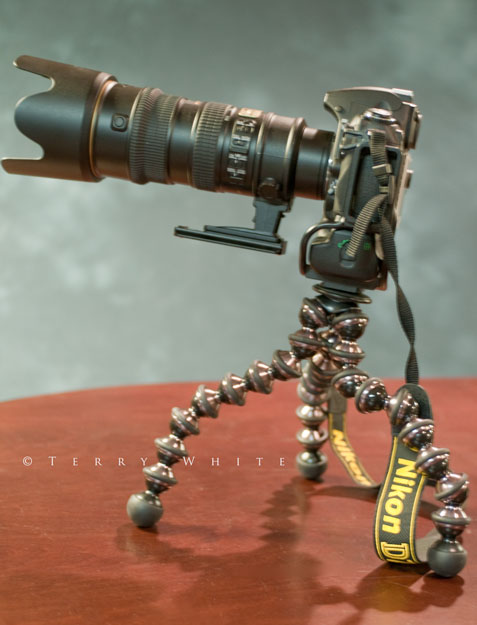 I've been taking my Nikon D700 or D300 with me on all my recent trips. I've also started traveling with more lenses and bigger lenses. One of my favorite lenses to shoot with is the Nikkor 70-200mm f/2.8 VR lens. As you know I'm a fan of the Gitzo Traveler Tripod. Although as small and lightweight as it is, I don't always have room for it in my luggage. This is what led me to using my Gorillapods more. Although I have the Gorillapod SLR, which is a great tripod for travel, it's just not quite sturdy enough or strong enough for my bigger lenses as it only supports up to 1.75 pounds.
The Gorillapod Focus to the rescue
The Gorillapod Focus is the top of the line Gorillapod. It's their professional model. It's geared specifically for large cameras with large lenses. It's rated at supporting up to 11 pounds. This puppy is solid! I could tell a difference right away when I took it out of the box and started adjusting the legs. As you can see in the above picture it has no problem supporting my Nikon D700 with the battery grip, Kirk L-Bracket and Nikkor 70-200mm lens. I've found it to be quite flexible in adjusting positions as long as you keep the feet pointing down. I took that shot with the Focus on my conference table and when the feet were at an angle they tended to slide on the slick surface of the table.
Although the Focus is not as small as the Gorillapod SLR, it's smaller than the Gitzo. This means that it's more likely to make its way into my carry on bag than any other tripod I own.
The Bottom Line
The Joby Gorillapod Focus is a nice blend between size, versatility and support. Although it is more costly than the other Gorillapod models, it's much cheaper than the more expensive carbon fiber tripods by other manufacturers. It's also great for video cameras. The Gorillapod Focus goes for $109.95 on the Joby site. Amazon has the Gorillapod Focus for $92.14.
Also be sure to check out my video interview with the Gorillapod product manager back at Macworld Expo.