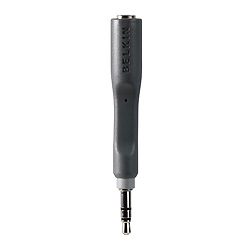 I thought I would end the week with some iPhone Goodies. The first item that comes to mind revolves around the supplied Apple earbuds. While I'm not a fan of earbuds in general, Apple's earbuds have come a long way since the ones that hurt my ears back in 2001. I can actually where these for a while. However, my favorite earbuds are the B&O A8s and for plane rides the Bose Quiet Comfort 2 Noise Canceling Headphones.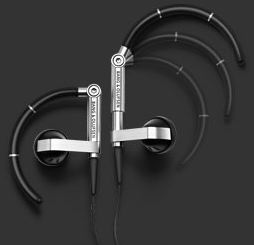 As it's been widely reported, most earbuds and headphones won't fit into the iPhone's recessed headphone jack. Although my A8's do (not a secure fit, but they work), my Bose QC2's don't. I knew that Griffin Technologies was working on their adapter, but Belkin's is shipping. I picked up the Belkin adapter at the Apple store for $10. RADtech also makes one for $6.95, but by the time you pay for shipping you're at or over $10 anyway. Not much to say about the Belkin adapter other than it seems longer than it needs to be. Luckily the middle portion is flexible. This adapter works.
I also bought a couple of the Griffin Technology
PowerJolt for iPhone
. Although most iPod car chargers will probably fit and power the iPhone, I didn't own any. So I figured If I was going to buy one I'd buy one that I know will work. The iPhone's battery life has been quite good, so I haven't needed to charge it in the car yet, but it's better to have a charger and not need it than to need it and not have it.
What about iPhone 3rd party apps?
I've been playing around with some of the web based iPhone apps out there and I have to say that a few of them are very useful and very well done. My favorites so far are:
Which case did I end up with?
Cases are a very personal thing. So what I like might not be right for you. My favorite style of phone case is the side holster kind. I bought a Griffin Technologies case the day I bought my iPhone and I didn't like it once I got it home. Although it has a belt clip and mounts sideways on the holder, you either have to to fumble with getting the phone out of the holder to use it or take the entire thing off your belt. I don't like either option. Believe it or not the case I ended up with was the phone that I already had for my Treo 650. It's of course wider than it needs to since the iPhone is so much thinner than the Treo. However, this makes it easier to get the iPhone in and out. I didn't return the Griffin case because it did come with a screen protector that I liked and I figure I can give the case away to one of my buddies that may like it. Although the iPhone has a pretty tough screen, it can get kind of grungy with all the oils from your fingers/face (or maybe it's just me). So I like the clear screen protector to protect the screen from scratches and permanent marks. I know that there are some iPhone holsters out there now and I'll check them out when I can see one in person. These look pretty cool.
iPhone tips and tricks
Take advantage of Address Book Groups! Since the iPhone's Contacts app can also display just the contacts in any given group, you should setup some groups in Address Book to make it easier to call around to certain business/friends when on the go.
For example, I have set up a couple of groups that will come in handy when I travel:
"Hotels I Stay At" is a group of all the hotels I visit on a regular basis. This way I can get to them all at once without having to scroll through the long list or having to remember the name of a particular one.
"Favorite Restaurants" Need I say more? Handy when checking hours or making reservations
"Travel" This is probably the most important group. It has the contacts for NWA, my car services, Hertz, my travel agents, etc. When your flight is canceled or you are suddenly going to be stuck in a town due to a storm, you are suddenly fighting for space on the next flight as well as hotel rooms with hundreds of other folks. Seconds can mean all the difference in the world. The faster you can make phone calls to rearrange your travel the better! I was stuck in Minneapolis just this past February coming back from a vacation in Mexico. We missed our last flight out due to the delays leaving Mexico. We were snowed in and all the flights were being canceled. Because I could get my travel agent on the phone QUICKLY, she was able to snag the LAST room for miles around.
A Notes work around! The iPhone does have a Notes app. However, there currently is no way to sync Notes from your computer. You can only key in new notes from the iPhone's keypad. There isn't even a copy/paste feature. Once the note is created it can be emailed out of the iPhone. This got me thinking there has to be a better way.
I love having notes on my phone and I knew I would miss this ability. I'm sure Apple will make the iPhone sync with the NEW Notes feature in Mail in Leopard, but that's months away. So my short term work around is to take advantage of the way IMAP email works. Your .Mac email is IMAP based. Also my other accounts are IMAP based too. With IMAP email you can have folders that reside on the email server. Here's what I did:
1) I opened Mail on my Mac
2) I selected the .Mac account icon (the one with the globe on the bottom left side)
3) Using the Action menu at the bottom I choose New Mail Box. When the dialog box appeared I choose to have the new mail box created in my .Mac account. I called the new mail box "Notes".
4) Next I created a new email message containing the note info in the body of the message and emailed it to my .Mac account.
5) When the message arrived, I moved it to the Notes folder
6) When I went to the iPhone and looked at the mail app, the new folder was already there with the note in it.
Before you ask it!
YES! I still like my iPhone 🙂
I like it more and more each day I use it. The sound quality has been great, Bluetooth just works and I've even gotten quite comfortable with the virtual keyboard. That's saying a lot because I didn't think I would ever get used to it. I'm at least as fast on my iPhone keyboard as I was on the Treo keyboard now if not faster. No regrets! I'm not the only one that is happy with my iPhone. Check out this USAToday story which states that 90% of 200 owners said they were "extremely" or "very" satisfied with their phone. And 85% said they are "extremely" or "very" likely to recommend the device to others, says the online survey conducted and paid for by market researcher Interpret of Santa Monica, Calif. The firm surveyed 1,000 cellphone users July 6-10. The iPhone is extending Apple's reach, the survey says. Three of 10 buyers were first-time Apple customers. For 40%, iPhone is their first iPod.