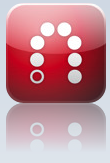 This is a bitter sweet kinda review. So let me get to it. When the iPhone 2.0 update came out last year and the iPhone was open to 3rd party app development, one of the main apps on my wishlist way back then was a SlingPlayer Mobile app. After all Sling Media had produced mobile versions of their player for other mobile platforms and the iPhone seemed like a natural for this kind of app. So I waited. Then I thought my dream might actually come true. I actually got to play with an early Alpha fo the SlingPlayer Mobile app back in January at Macworld Expo in San Francisco. The app was beautiful with a nice translucent display for onscreen buttons. I started getting really excited until I heard those words. They said, "well we're just about ready to begin the submission process to Apple." That's when it dawned upon me that even though this app was being developed, that doesn't mean that it will actually make its way into the hands of users. Unlike most other mobile device platforms, Apple has to approve every app submitted for the App Store. So there's always a chance that the app could be rejected. Back in late March, the news broke that SlingPlayer Mobile app had been submitted to the App Store for approval. The approval process takes about a week on average. When two weeks went by, I knew that there was trouble in paradise. Something was wrong. Another week went by and I had pretty much assumed that this thing would never see the light of day. I had a suspicion that the problem was not with Apple, but with AT&T. AT&T has recently been reemphasizing their polices on streaming data and bandwidth to wireless devices. The SlingPlayer certainly would violate this policy. Even though they later came back and said that the update was released in error, the writing was on the wall. So it was no surprise to me that when the SlingPlayer Mobile App finally got released this week that the ability to stream video over 3G networks was removed.
–
It's finally here! SlingPlayer Mobile for iPhone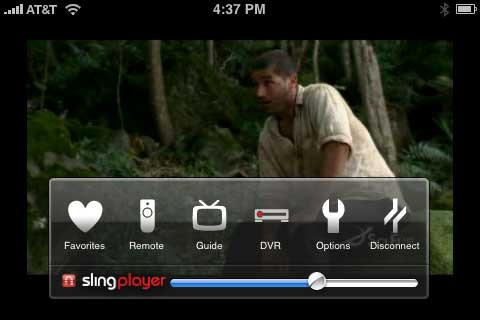 –
What's a SlingBox and SlingPlayer?
To save time, if you have no idea what a SlingPlayer is and why you'd want one, go read my review of the Slingbox Pro here. Go ahead and read it now. We'll wait…..
–
How well does the SlingPlayer Mobile App for iPhone work?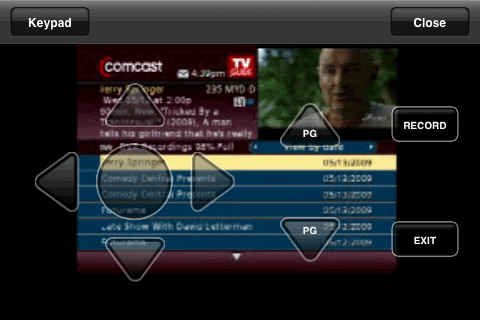 Now that we've gotten past all of the politics (well not quite, but let's put that on hold for a sec) and what a Slingbox/Player is, let me concentrate on the app itself.  The idea of the SlingPlayer and SlingPlayer Mobile app is that you can watch your TV (DVR, DVD player, Apple TV, basically any video source you have connected to the Slingbox) on the go. I LOVE the ability to watch recorded shows from my DVR anywhere I happen to be as long as I have my laptop and internet connection. The SlingPlayer Mobile app promises to give you that same capability on your iPhone or iPod touch. It's great to have this ability when you find yourself with some down time or sitting in a waiting room somewhere. Plug in your headphones, fire up the SlingPlayer Mobile App and using the on screen remote control interface you can change channels, switch sources and watch recorded shows from your DVR.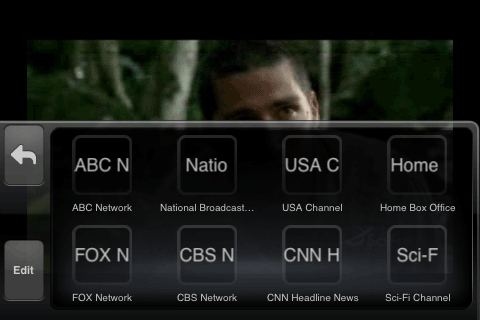 My DVR of choice is the TiVo HD. I have Comcast cable and I do have one Comcast (Motorola) DVR. This is the DVR that I have my SlingBox Pro connected to. Why not connect it to one of the TiVo HDs? There's a reason that I have it connected to the Comcast box instead of my favorite DVRs. When you use a SlingPlayer to watch your TV/DVR remotely, you are physically controlling that DVR in real-time. So whatever you do will be seen by the people in your home if that TV happens to be on. So as to not disrupt the TV viewing for the rest of my family, I put the SlingBox Pro on the DVR that no one likes to use. Yep, that'd be the Comcast box in my office. This way I can have it to myself when I'm on the road.
I downloaded the SlingPlayer Mobile app the minute it became available (something like 1AM my time).  I wanted to see how well it worked and of course tell you about it as well. The app works great! I haven't had a single issue yet. When I first fired it up, it requested that I log into to my Sling account online. I hadn't actually set up an online account yet, but I did right there on the spot. Took just a couple of seconds to get going.
Once I had my account setup the app/site found my Slingbox and I was watching live TV! Wow! It works! I don't really have much interest in watching live TV, so of course the next thing I wanted to see was my DVR. The integration was right on the money. I pressed the onscreen DVR button and it sent the proper commands to my DVR to bring up the list of recorded shows. I was able to easily navigate to a show and start playing it. Again, it just worked as advertised. Although I don't really use the SlingPlayer to watch live TV, I wanted to test these features too. So I setup my "Favorites" buttons so that I could switch to any of my favorite channels with the press of a button. It worked fine.
–
What could be better?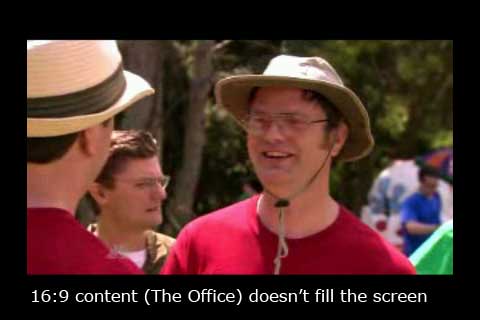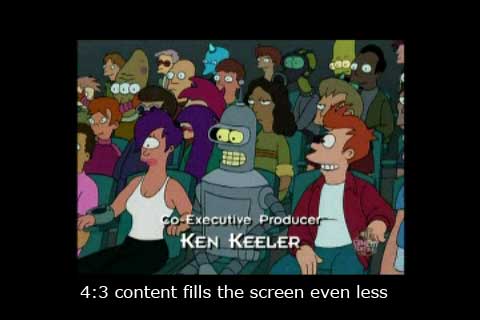 The one thing I noticed is that I can't ever seem to get the video to fill the screen. If I watch 4×3 content I can set it to letterbox it. However, if I watch 16:9 widescreen content, there doesn't seem to be a way to zoom in on it (even if I'm willing to crop some off) to see it fill the screen from edge to edge. Apple allows this in the iPod app. I would like to see this in the SlingPlayer app as well. Although the remote functions well, there will be a few second delay from the time you press a button until the results are displayed. You have to remember that it's sending these commands over the internet and then via IR to your device. So give it a sec.
Bonus Tip: Since you have control of your DVR via this app, there's nothing stopping you from using this as a remote control to schedule recordings too.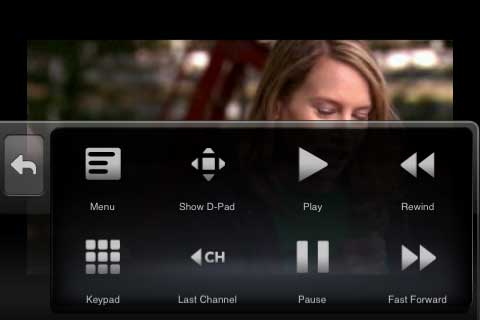 I can't ignore the elephant in the room. As great as this app is, the single biggest frustration is that it only works over a Wi-Fi connection. If you're an iPod touch user, you're used to this. So it's probably no big deal. However, if you're an iPhone user, it may be a deal breaker. It means that you'll only be able to stream content from your TV source or DVR when you're connected to Wi-Fi and not over the 3G network. Argggggh! So close, but so far.
–
The Bottom Line
Here's the thing with this app, it works as advertised. However, I can't ignore the biggest problem and that is it's been crippled by AT&T restrictions and doesn't not allowed to work over a 3G cellular network. It only works over a Wi-Fi connection. While it's easy to blame AT&T for this restriction, there is one thing that Sling Media could have done to soften the blow and that is lower the price! I don't have a problem paying $29.99 for a SlingPlayer Mobile app (heck I just did). However, I do have a problem paying the SAME price as every other version of the SlingPlayer Mobile app (for BlackBerry, Palm, Windows Mobile, Symbian, etc.) and not being able to watch over the SAME 3G network as all the other players do. Think about it! If I go buy a BlackBerry from AT&T, I can buy the SlingPlayer Mobile App for BlackBerry and watch TV over AT&T's 3G network. Granted, it's probably in violation of the small print in the agreement I would sign, but there would be nothing stopping me from doing it technically. If caught, AT&T would be within their right to suspend my account. I'm not advocating breaking the rules. I'm just using this as an example.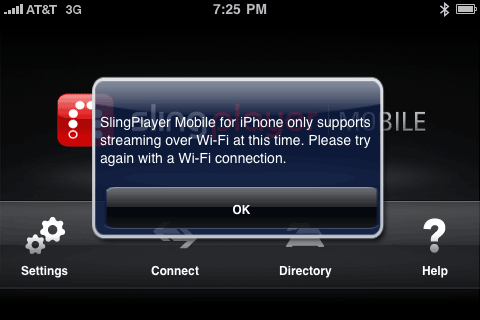 This is not the first app crippled by AT&T. Remember, it wasn't long ago that Skype shipped their iPhone app and like the SlingPlayer for iPhone, it only works over Wi-Fi.
Bandwidth abuse or overuse is a legitimate concern especially when you know that your network can't handle the hit. If you've been to the last two Macworld Expos you've witnessed AT&T's data network brought to its knees by the sheer volume of iPhone users simply checking email and surfing the web. Each year after the Apple keynote you could forget about using your iPhone to do anything data related on AT&T's network. Nothing but gridlock. Streaming video/audio takes way more bandwidth than email and web surfing. AT&T is concerned that thousands or hundreds of thousands of SlingPlayer users suddenly streaming video for hours on end would be a significant impact to all their users. They're probably right!
I have read many of the angry comments in protest of this and people are saying that they refuse to buy the app without 3G support. Frankly, I don't blame them. Yes, I know that software development costs money. Remember, I work for a software developer? I know that Sling's hands were tied over the whole 3G issue, but they are the ones that set the price. Why should we be asked to pay the same price for our app that doesn't have the same functionality of the same apps on every other mobile platform that this app is available for? So there I've said what many of you have been wanting to hear. I agree with you!
Apparently AT&T released a statement explaining their stance. Let's hope that this rumor is not true that they purposely crippled this app as it was competition for an U-verse app that they are going to release.
The SlingPlayer Mobile app (Wi-Fi) is available for the iPhone and iPod touch for $29.99 from the App Store. I don't think I need to say it, but just in case: you will also need a Slingbox connected to at least one video/audio source in order to take advantage of the app. Need a Slingbox? The Slingbox Pro HD is here for $234.80 (List Price $299).
Sling Media has done a very good job coding this app. If they lowered the price OR if AT&T would allow it to work over 3G it would be a must have for every Slingbox user out there.