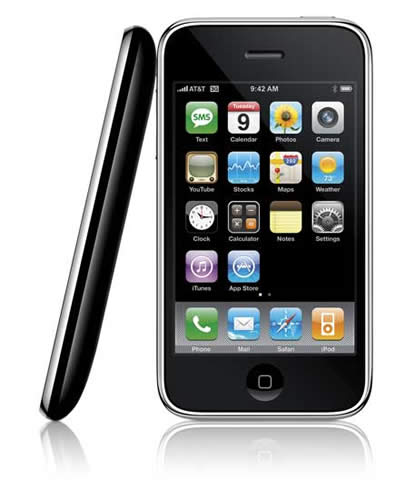 As expected Apple announced the iPhone 3g today! This is the iPhone that takes advantage of faster 3g data networks for near wi-fi data speeds.
 
It's the software stupid
Apple lead their keynote today with lots of talk about software. As with any successful platform, it will live or die by the apps that are available for it. Apple realizes that they can't do everything that everyone wants. So many 3rd party developers announced and showcased their apps today. Apple also showcased their support for Microsoft's Exchange syncing which is HUGE in the corporate world. Not to leave consumers out, Apple announced "mobileme". Mobileme is the successor to Apple's .Mac service. This service will provide push email, calendar, contacts and photos to consumer users of the iPhone.
3rd party iPhone apps will range in price from FREE on up. You'll get your apps directly through the iPhone App store on your iPhone running the 2.0 software.
 
What we know…
Shipping: July 11, 2008
Software: iPhone 2.0 as a free download to existing iPhone users and $9.95 for iPod touch users
Capacity: 8GB (only in black) and 16GB (available in black or white)
Speed: 3g data network
GPS: YES!
Push Data: via Microsoft Exchange and Apple's NEW mobileme (no announcement of when mobileme goes live)
iPhone 2.0 Software and the iPhone App store: a free download to existing iPhone users ($9.95 for iPod touch users) in early July.
Terry's Pet Peeves Addressed: Not sure what else from my list of "50 ways to make the iPhone better" will get solved in the 2.0 version, but one thing that has been added is a Search feature for Contacts. Also we now get Bulk Delete and Move of things like email messages.
Other NEW Features: View PowerPoint, and iWork (Pages, Numbers & Keynote) document attachments. New Scientific Calculator. Adding photos from emails to your iPhone Pictures library. Also many more languages are included.
Price: 8GB model $199!, 16GB model $299
Learn more here.
 
iPhone 3G: Twice as fast. Half the price!
Probably one of the biggest shocks of this announcement was the price! You'll be able to get a iPhone 3g 8GB model for a mere $199. The 16GB model will go for $299. Both models are slated to be available Friday, July 11th (I've got to imagine that there is some idiot out there who is already standing in line. Please tell me it isn't so!) Don't get me wrong, I plan to upgrade on day one, but camping has never been my thing 🙂
When you think about it, $199 is a STEAL for a touch screen iPhone, with a GPS, that is also an iPod that plays video, does web, email, mapping and allows for 3rd party apps. Wow! The first 5GB iPod was $399 if that gives you some perspective.
 
Start the countdown…. July 11th can't get here fast enough!