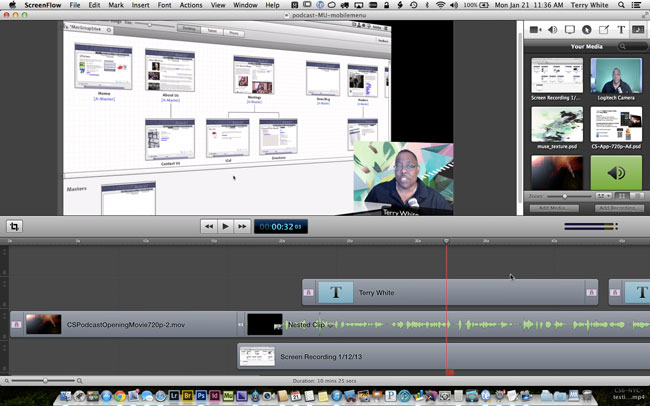 I get this question at least 2-3 times a week: "Hey Terry, I really like your video/tutorials what software do you use to record them?" The answer is Screenflow by Telestream. I've been using this software to record my Adobe Creative Cloud TV Podcast for a couple of years now and from time to time I even use it to record product demos. After the intro, which was created with Adobe After Effects the first thing that usually catches people's eye is the image of me in the corner while the computer display is large and angled off to the side. This is a native feature of Screenflow and was one of the reasons I settled on it a couple of years ago. Over the years Telestream has continued to bolster the feature set making it pretty much a total solution for not only recording, but editing and distributing screen recordings. While Adobe Premiere Pro CC is my video editor of choice, I find that I can do the simple edits I need to do for my episodes right in Screenflow.
You can get Screenflow here.
I record my screen in 720p HD (Update: I'm now doing 1080p) and the resulting export from Screenflow looks really good. From there I use the Adobe Media Encoder to go out to the other formats and sizes I need. However, I typically upload the Screenflow exported movie right to YouTube for my YouTube Channel so that my viewers there can enjoy the content in HD.
Screenflow 4 adds even more…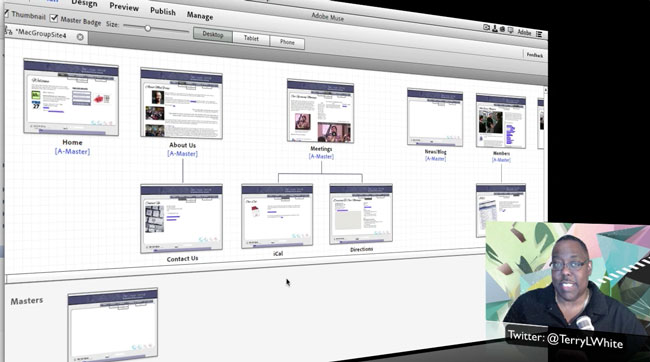 The latest version of Screenflow even adds 64bit support as well as Chromakey effects so that I can shoot myself on green screen and then superimpose whatever imagery I want behind me. I'm stilling working out the lighting aspects of this in my office that I record from, but the results have been good all things considered. They also including nested clips, closed captioning and several other editing features to make it even easier to edit your final product right in Screenflow.
How do you show your iPad or iPhone or both on your computer screen?
I use a great software product called Reflector. It uses AirPlay and as long as the devices are on the same WiFi network they will show up to Reflector running on your Mac or PC.
Also in Mac OS X 10.10 Mavericks you can show your iPad or iPhone on your Mac screen natively. Here's how:
What equipment do I use?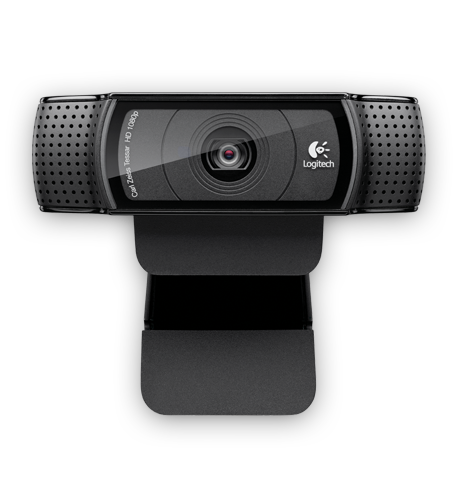 Update: Note that Screenflow now allows you to connect your iPad or iPhone directly to your USB port using your Lightning sync/charge cable and it will record directly from the device as a separate video track.
Since I'm typically doing these recordings alone I need everything to just work! I'm using a Logitech C920 HD webcam on a tripod to record the image of me and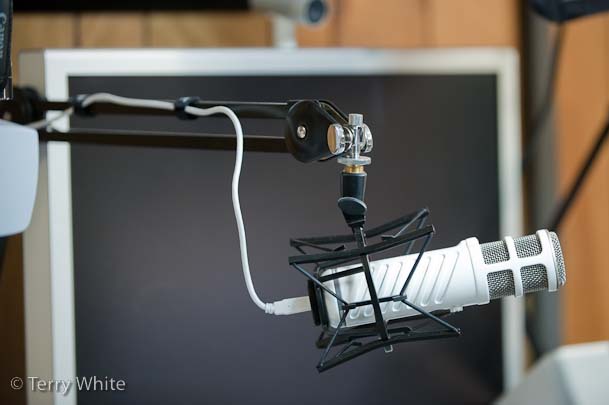 Originally I was using a Rode Podcaster mic. Recently I switched to an Apogee Mic 96 as my main mic. As far as lighting goes I use a Westcott Spiderlight TD6 continuous light to light me. I also have their uLite green screen kit.
Currently Screenflow is a Mac only product. If you're looking for a solution on the Windows side (or another choice for Mac), then I'd also suggest you take a look at the new Adobe Captivate.