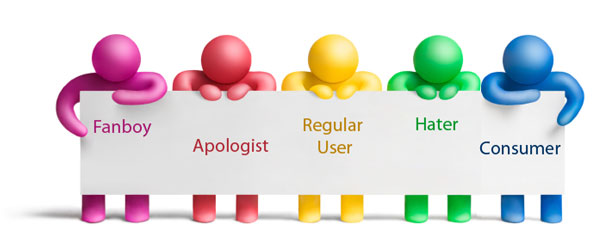 Whenever there is a popular brand it seems that people start to fall into different categories regarding that brand. Now that we're in this internet age where it's easier than ever to voice your opinion (anonymously), it comes out even more. When we hear the terms Fanboy, Apologist, Hater, and Troll, we already start to name various brands in our heads. Of course brands come to mind like Apple, Sony, Bose, Adobe, Microsoft, Google, etc. People are very passionate about brands. Unfortunately this usually means they either LOVE them or HATE them. There usually isn't much room in the middle. I pride myself on trying to stay in the middle as much as possible. Take Apple for example, I've been a long time fan of their products (over 20 years). I've never worked for the company and never been paid a single dime to endorse them. I have an appreciation for good design and products that work right, but I also have no problem pointing out when something doesn't work right or when a mistake has been made (and yes they make mistakes)! Look at any review I've ever done on their products and you will see where I mention the things I like and the things I DON'T LIKE. Neither a Fanboy nor a Hater. I realize that in all of the brands I mentioned above and the ones I didn't mention, at the end of the day these companies and their products are run/made by humans and humans are not perfect. So neither are their products!
Which one are you?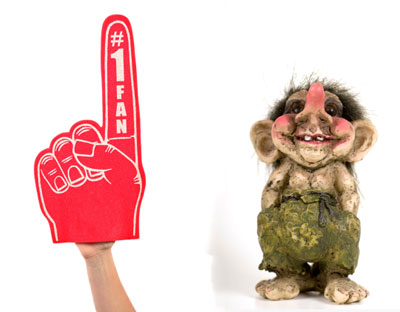 Fanboy – A Fanboy is someone that just loves the company and its products. These are typically positive people in general and even though they can see when something isn't quite right, they generally come back with lines like "Oh I'm sure they'll fix that." They are also usually pretty vocal about why they think the product is cool and would be the first in line to buy the new version. They also typically love telling their friends and anyone who will listen about the gadget they just got and how much it has changed their lives. If you didn't know better you would swear they're being paid. I actually don't have a problem with Fanboys. What's wrong with loving the tools you use and the companies that make them? Also Fanboys generally have a positive outlook on life in general and are usually pleasant to hang out with. The only problem here is that Fanboys often aren't open to even looking at another solution or product, so they may actually be missing out on something that may work better for them. Canon vs. Nikon comes to mind here 🙂
Apologist (a.k.a fanatic) – An Apologist and Fanboy are often looked at as being one in the same. They're not the same. While I don't have a problem with Fanboys, Apologists bug the crap out of me. The Apologist also loves the product and company. However, they are so blinded by their loyalty that if there is something wrong with a particular product, they tend to want to blame everyone else. They are the first to say things like: "Mine works great, you must just be using it wrong!" or "They designed it that way for a reason, you shouldn't want to do that?". They see the company's vision and you just don't get it! No matter what, the company and the products are perfect. There is no defect or flaw. You're the one with the problem. It's your fault! "So your arm fell off. How can you be so sure that the product caused that to happen? My arm didn't fall off. Why would you want to sue? Stop being a cry baby." There is no arguing with an Apologist. They will NEVER admit that there is something wrong. Don't waste your time, just smile and move on.
Regular User – I like to live in this space. A regular user uses a product and they praise it for what it does well, but don't have a problem pointing out what it doesn't do well. They want good value for their money. They appreciate good design and products, but have no problem moving to something else if what they bought isn't working out. They usually don't comment on forums very often unless they are having an issue or they know the fix to someone else's issue. If the product that they are using is working well, they'll upgrade and recommend it to others. If not they have not problem telling you why.
Hater/Troll – These are the people that love to hate a product or a brand. They are the first to post something like "LOL LOL LOL, loser, I can't believe you bought that" or "I told you it was screwed up, you should have bought ________", "Sucker!" "I'm smart, you're an idiot". These are also the people who are quick to tell you why they are NOT buying something. Like the Apologist, these people also bug me. What I never understood about haters is, if you hate the product or brand so much then why are you hanging out on forums, blogs, etc. that are talking about that product you hate so much. I don't have any interest in Golf, but I don't seek out Golf forums to tell people how much I hate it. I walked past a GAP the other day. I saw a shirt in the window that I didn't like. Funny, I didn't feel compelled to stand in front of the store telling strangers that passed by why I wasn't going to buy the shirt. I didn't say "hey, you see this shirt I'm wearing? I like it much better than the one they have in the window. How could they even sell such a shirt? Mine has TWO pockets." Haters/Trolls are sometimes people that went against the popular choice and they don't like to feel like they bought the wrong thing. So therefore, they spend a great deal of time telling you how bad the popular choice is so they feel better about what they're using. The typical hater is a 14 year old kid in his parents basement with lots of time on his hands to be online. Not much of a social life and gets a kick out getting everyone worked up. Avoid the argument, it's not worth your time. You're never going to change a haters mind.
Consumer – I don't have a better word for these non-industry folks. Like the Regular User, these people bought a product and they use it. They don't go online to read about the latest advancements of that product. They aren't waiting for the next version. They really don't have any loyalties one way or the other. They just use it. If you ask them about it, they will tell you very honestly what they feel one way or the other. They have no vested interest or pride about the product or brand one way or the other. Ask me about my refrigerator. "It works fine. It keeps my food cold. I haven't really had any problems with it. Which brand is it? I forgot, let me go look." These are the people that go on about their lives and could care less about any of the above. They almost never buy a gadget the first day it comes out unless they just happened to be walking by the store and see a crowd. They would never stand in a line to get the new thing and in most cases they didn't even know the new one was coming until they saw all the people in line on the news. As much as you might not like to hear it, there are millions of these people and they probably buy the bulk of the products that you're so passionate about and could care less. I love these people too! 🙂
Happy Friday Everyone 🙂

New Apple Friend Bar Gives Customers Someone To Talk At About Mac Products