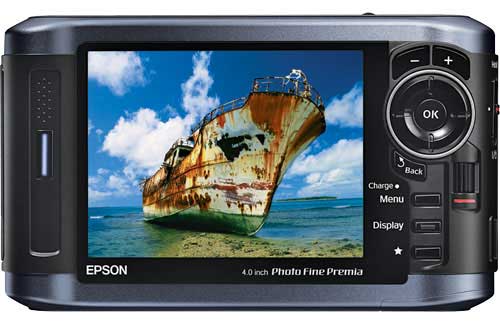 One of the things that photographers are constantly concerned about is backing up their photos. While it's pretty easy to do if you're in the studio, it's more challenging when you're out on location. For this reason I have been using Epson Multimedia viewers for the last couple of years. These devices are pretty cool because they are small enough to fit in just about any camera bag and have just about all the functions you would want.
What's built in?
First of all they have a built-in hard drive. The current models come in either 80GB or 160GB capacities. They have a high quality 4 inch LCD screen and both Compact Flash and SD slots built-in. After a shoot you simply take the card out of your camera and put it in the Epson Multimedia Viewer.

Execute the Backup command and it will copy the photos from your card onto its built-in hard drive. Put the card away, don't erase it! The whole point of a backup is to have your data in two or more places. If you erase the card, then you are still vulnerable because the photos will only be in one place.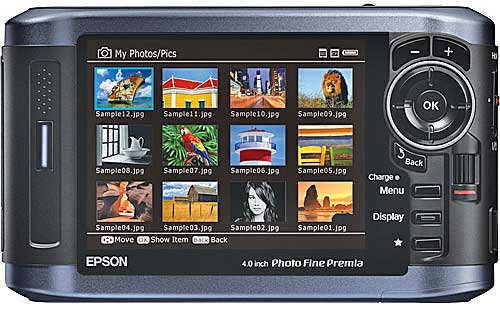 What other features does it have?
The Epson Multimedia Devices can also play music which is handy for doing impromptu slideshows. You can have your MP3 files already on the device and be ready to play them. The other more important feature is that these devices support Camera RAW files (yes, of course it supports JPGs too) from the most popular cameras today. This means that you can not only backup your cards, but you can use its 4 inch screen to display your pictures. Both the P6000 and P7000 now support 94% of the Adobe RGB color space which means you'll be seeing your photos more true to the way they will actually print instead of the striped down sRGB color space. Lastly there is also video/audio out jacks so that you could hook up your P6000 or P7000 to a TV or projector to show your work on the big screen.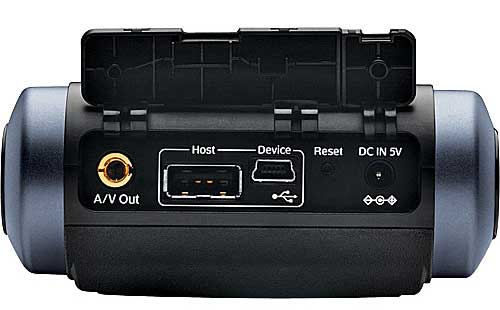 How well does this device perform?
I've had my new one for a few weeks now and I have no real complaints. The backup speed is acceptable and I haven't had any card/image compatibility problems. It seems that with my P3000 there were certain CF and SD cards that couldn't be read (mostly the cheaper off brand cards from friends). Navigating the images is done via a jog wheel, which after working with an iPhone for the past year seems kind of archaic now. I would love to be able to "flick" my images by. Speaking of the interface, it has improved a little since the P3000, but it's time for an over-hall. There are still too many screens, menu options to get to what you want at times.
What about the price?
Here's the biggest problem of them all. These devices are best in class and you'll pay a premium because of that. They are, in my opinion over priced. The 80GB Epson P6000 lists for $599.99 (yes $600 bucks). The 160GB Epson P7000 lists for $799.99 (nope, it's not a typo, $800!). Considering the cost of storage these days and the fact that I don't imagine that there was a ton of RD that went into these latest models, they are easily $200 over priced. Now I have no idea what these cost to manufacture and it's quite possible that I'm missing something here. I admit that. However, there are full blown PC laptops on the market that cost less. For example, here's a Gateway/eMachines laptop that comes with a 160GB hard drive, 15.4 inch LCD, 3GB of RAM, Keyboard, DVD burner, and wireless networking for $599.99. Is this a quality laptop? Probably not, but the fact is it has more components and costs less. It seems that Epson keeps increasing the storage, but never lowers the price.
The Bottom Line
Although these things are pricy, I do LOVE my P6000 and would never think of going on location for a shoot without it. Once I get back home, I can either copy the cards again to my computer or I can simply plug in my Epson P6000 via the USB cable and copy all the shots that way. Since it does mount on the desktop as a hard drive, I can easily copy my portfolio to it to show perspective clients. Do I recommend them? Yes, if you have the budget for it. They work as advertised and have never let me down. Battery life is decent too and the rechargeable battery is removable and user replaceable. As far as which model to get, I can't really see much of a reason at all to get the P7000. Granted you do get double the hard drive space, but it will also cost you $200 MORE! Seeing how I doubt that I would ever shoot 10 8GB cards worth of shots in one setting, the 80GB model is plenty. I'm also remind that the model I upgraded from only had a 40GB drive and that was never too limiting for me either. So 80GB is more than enough. As for as room for improvement goes, for the prices that these are going for I would at least like to see some wireless/Wi-Fi transfer options. Even an EVDO 3g card slot would be nice too. That way I could not only back up my photos, but I could email them directly from the device to someone. Amazon has the Epson P6000 for $579.20 (or less) and B&H has the Epson P7000 for $799.95.