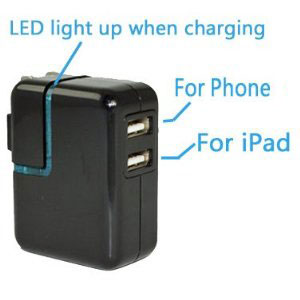 I'm always on the look out for ways to reduce the number of chargers I travel with and while I have found some great 4 Port USB Chargers in the past the one thing they all seem to lack is the 5V 2 AMP (10W) power requirement for the iPad. Granted the iPad will still charge on the lesser current, but it will take longer. Recently I found a dual USB charger that has one port that operates at the higher voltage. The other USB port is a standard 5V 1 Amp port for your other USB devices such as your cellphone. This is GREAT! This means that I can charge my iPad 2 at full speed and still have a port to charge my phone. The other requirement I have is that any charger I buy has to also work on the higher powered International plugs and this one does (with an appropriate wall plug adapter).
I have replaced my standard iPad white chargers with these for on the road. Yes it comes with a sync cable too. The only annoyance is the bright blue LED that lets you know it's plugged in. You know how I feel about LEDs 🙂
You can get the Dual Port USB Charger here for about $12 or here on eBay for about $12.
A standard Apple iPad charger retails for $29 (granted it does come with a long cord too).
Here's one for the Car too:
Order it here.