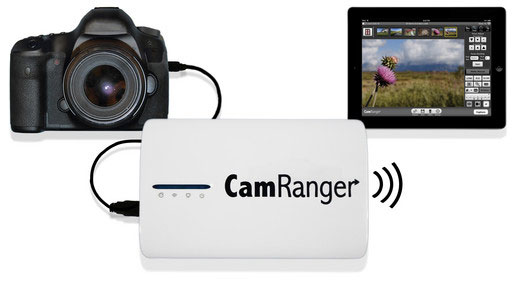 I'm finally getting to my CamRanger Review. This is a product I saw several months ago and always wanted to do review of it. I get the question all the time: "Is there a way to wirelessly shoot to my iPad?" I've covered many ways that the iPad can fit into a digital photography workflow here and another wireless solution here, but at the time CamRanger wasn't out yet. CamRanger offers a complete wireless camera control solution for your Nikon or Canon DSLR. It's a small lightweight box about the size of a smartphone that plugs into your compatible DSLR via a supplied USB cable. It creates a wireless network on its own and therefore doesn't need a computer or other wireless hotspot. You can connect to it with your iOS devices (such as an iPad or iPhone), Android devices, or a Mac or PC. For my testing I used an iPad Air. Set up was very easy and only required about a minute of reading the instructions. I tested it with my Nikon D600. Once it was set up I was able to work in either direction. I was able to use the iPad to control most aspects of my camera including picking focus points, ISO, shutter speed, f/stops, white balance, etc. and I was able to take shots using the camera and have them show up as I was taking them on the iPad. The latter mode is probably the one I'd use the most out in the field because I really don't need the remote control functions as much as say a landscape or wildlife photographer would.
Rather than continue to write about it, I recorded this short video of how it works:
The Bottom Line
CamRanger works exactly as advertised. It has a range of 150 feet and a battery life of about 5-6 hours. It allows the most control over your DSLR than any other solution I've seen and it allows you to shoot directly to your mobile devices. Many of the newer Nikon and Canon DSLR are actually coming with optional wireless connectivity. So if you have a new camera you probably have more options to choose from. However, if you're working with a slightly older model like the Nikon D700 or Canon 5D Mark II for example, then this may be your only option. CamRanger comes with all the cables, chargers, etc. necessary to get started including a pouch to easily put it on your camera strap or belt.
You can get CamRanger here.