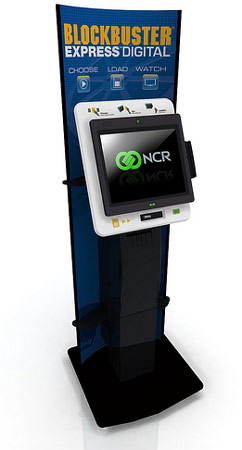 When I saw this story come across my RSS reader, I almost spit out my drink. It seems that Blockbuster (in an attempt to remain relevant) is trying all kinds of new things. Let's face it! Netflix kicked your butt and you're in a fight for your survival. I get it. However, you have to realize that while you were hell bent on charging me obscene(more than the movie cost) late fees back in the day that someone (Netflix) figured out a way to eat your lunch by letting customers keep their movies as long as they wanted for one flat rate. Netflix continued to grow their business by moving BEYOND THE DISC (MEDIA) MODEL and partnered with every company they could on delivering (TiVo, Sony, Microsoft, etc.) streaming movies.
The fact that one of your newest ideas involves customers walking up to a kiosk and downloading a rental or getting a rental on a memory card shows me that you still don't get it. The "drive to my local movie rental store to pick up media" model has a very short life ahead of it. Maybe it's just me, but I think you should be investing more towards getting movies into the hands of your customers via the Internet and on mobile devices. You made a great first step by hooking up with TiVo. Although I'm happy with Netflix and iTunes I did cheer for you. You should really continue in this direction!
iTunes isn't going away!
The fact I can rent a movie right on my Apple TV in my living room should make you guys really nervous. Partner, Partner, Partner. This will be the key to your survival. Look at the boxes people are buying and hooking up to their HDTVs and do whatever it takes to get on those boxes at a reasonable price to your customers. Competition is great! Compete!