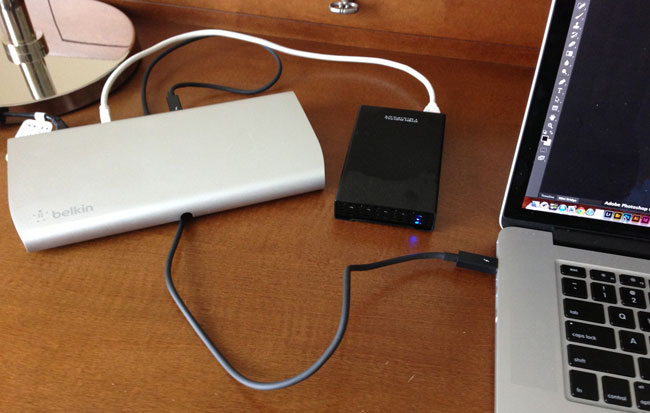 For the last few years I've used a MacBook Pro as my primary computer. I even sold my Mac Pro tower a few months ago as I just couldn't justify hanging on to it for the few times I used it to do heavy duty video rendering. Sure it was faster than my notebook, but I just found that I was using my notebook more often than heading over to the Mac Pro. Now that I'm on the MacBook Pro most of the time, when I'm at my desk I want to connect all my peripherals. I've got a Wacom Cintiq 24HD display, Gigabit Ethernet drop, a 7 port USB 3.0 hub with a Logitech C920 webcam, Rode Podcaster Mic, Bose Speakers, Apple Wireless Keyboard, wireless Magic Mouse and an occasional external hard drive to transfer data from here and there.
What is the Belkin Thunderbolt Express Dock?

It's an external piece of hardware that sits on your desk and connects to your Thunderbolt port on your computer. Once connected it adds 1 Gigabit Ethernet, 1 Firewire 800 port, an additional Thunderbolt port, an audio in and audio out port, and 3 high speed USB 3.o ports.
Before the Belkin Thunderbolt Express Dock I would have to plug in the power and four cables before waking my MacBook Pro up. The beauty of a dock is that it can give you not only the convenience of having all your peripherals plugged into one device so that you can just plug in one cable, but it also can give you ports that you didn't have. For example, on the MacBook Pro 15″ Retina Display Apple has eliminated Firewire and Ethernet ports. While I have the Thunderbolt Adapters to add these ports back in, the Belkin Thunderbolt Express Dock has them built-in plus one that I don't have an adapter for and that is a standard 3.5mm audio in jack.
The design of the dock is appealing to my eyes and it has all of the connections in the back with a pass through to the front for the Thunderbolt cable (which is not included). I was a little disappointed by the rather large power brick, but then I reminded myself that I won't likely be traveling with this dock. It's designed to sit on your desk with everything connected to it so that I just plug in the Thuderbolt cable to my MacBook Pro when I get to my office.
I've connected a couple of hard drives to it for testing and  noticed no difference in speed. The other ports seem to work as expected.
The Bottom Line
This dock has been a long time coming. For a MacBook Pro owner it's nice to have. For a MacBook Air owner it becomes an even better accessory since MacBook Airs have even fewer ports built-in to them. I would have loved to have seen one more Thunderbolt port and for the price I feel that it should have included a Thunderbolt cable. Otherwise it's a solid piece of gear that will make my MacBook Pro feel even more like a desktop computer when I'm at my desk.
You can get the Belkin Thunderbolt Express Dock here.
You can get the needed Thunderbolt Cable here.