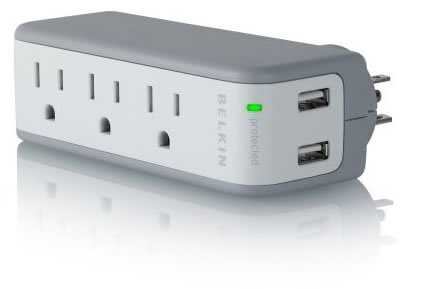 Although Belkin doesn't specifically label this Mini surge protector as "Travel", they do go out their way to talk about how "hotel rooms and airport terminals never seem to have enough power outlets to charge all the devices today's traveler brings along." So that leads me to believe that they intended their "Mini Surge Protector with USB Charger" to be used by Road Warriors. I have been looking for a compact surge protector/slash power strip to keep in my computer bag for travel. We've all been in those hotel rooms where you've had to decide between having a lamp, a clock or power for your phone or laptop, due to the lack of available outlets (I also love it when the only outlet is behind the bed). This mini surge protector has an added bonus of two USB powered ports on it to charge up my USB devices (such as iPods, GPS units, phones, etc.) When I traveled to Spain, I bought a universal adapter that also had a single USB port on it, but I was disappointed in that the USB port didn't provide enough juice to charge the iPhone.
It's seems that that iPhone uses a little more juice than most standard USB ports provide. For example, my old Treo 650 would still get enough juice from my MacBook Pro while it was sleeping. Not so with the iPhone. I'm very happy to report that the Belkin unit DOES provide enough power through the USB port to also charge the iPhone. That means one less adapter I have to carry around.
I could never figure out why Apple didn't design a USB port into the power adapter of its portables. Seems like a natural fit since most MacBook owners I know also either have iPods or iPhones (or both).
It's almost perfect
It's a little on the large side. However, that doesn't bother me because after all there has to be room for the surge suppressing circuitry as well as the two USB ports too. What does bother me is that the AC prongs don't retract or fold down. To Belkin's credit they did design the prongs so that they rotate. This allows the strip to be horizontal or vertical depending on how your wall outlet is configured. The protruding prong thing is not the end of the world, but it's one more thing to have to deal with in an already crowded bag. If I were a ratings kinda guy, this would be one of those things that would keep me from giving it a full 5 stars. I give it 4.5 stars. Hopefully the next version will be designed to fix this small little issue.
Also since this is one of those little items you might forget and leave behind in your room, don't forget to put a label on it.