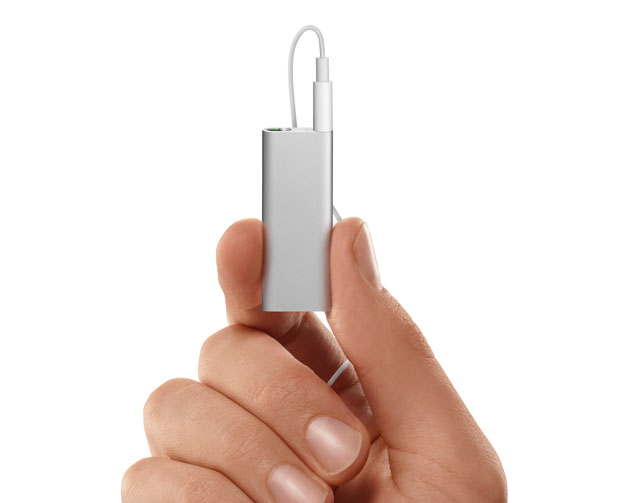 Hey it's Wednesday! Apple traditionally releases new products on Tuesday so as usual no one saw this coming 🙂
Apple introduced the 3rd generation iPod shuffle. No I don't have one yet. I just woke up to this news like everyone else. So I'm writing this based on what I've read and seen so far. The new shuffle is the smallest shuffle yet. Smaller than a AA battery. The first thing you might notice is that the controls are GONE! Well, they're gone from the case itself. The controls are now on the earphones cord.
The shuffle now gets playlists
The shuffle never had a display which meant that you never had a way to navigate multiple playlists. So the previous shuffle models could only play songs from a single list of songs. That all changes because the new shuffle has Voice Over! Voice Over announces things like the name of the song, artist and you guessed it, playlists. This is a clever work around for not having a display and it also makes it much easier to use for sports activists because you don't have to look down to make any changes. You can focus your attention on your run or activity.
Specs and the Bottom Line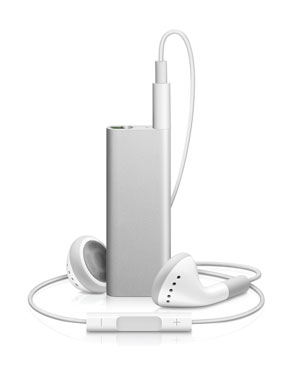 The shuffle has 4GB of memory and comes in Black or Silver for up to 1,000 songs. It requires iTunes 8.1, which will probably be available for download soon. While moving the controls to the earphone cord means that they can make a smaller shuffle, it will limit the number of options for using your existing 3rd party earphones/headphones. The Apple store is quoting a 3-5 day ship period. This would be a great iPod for someone who doesn't want to spend a lot on iPod, but still wants to easily carry around their favorite music and purchases from the iTunes store. While this is probably the best shuffle Apple has delivered to date, I have no desire to get one. I'm quite content with the army of iPods and iPhone that I already have 🙂
The iPod shuffle goes for $79. Apple has posted this cool video guided tour to show the features.