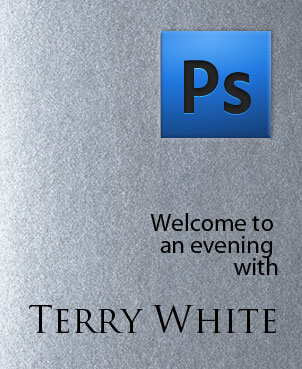 I don't get to present in front of customers as much as I used to. Also in this economy travel has become a luxury. So I was thinking how could I spend some quality time with you and it hit me: "An Evening With Terry White!" Here's how it works: I will pick an evening and a topic and do a one hour live session on that topic over the internet. There will be no cost to the attendees, It's on me (well actually it's on Adobe).
The First Topic
This first evening will be on "Adobe Photoshop Essentials." Although this is going to be kind of basic for some, I really want to gear this session towards covering the kinds of things that my friends and customers ask me all the time. Topics like: How to remove someone from a background. How to fix blemishes and other artifacts. How to fix the color of an image, etc. So this session will be made up of several mini-tutorials. I will cover as many of these as I can fit in in an hour. Also realize that in Photoshop there are usually several ways to do the same thing and I only have an hour. So I may not do it the way you would have done it or the way you were thinking. Breathe, it will be ok.
Although I'll be using Adobe Photoshop CS4, you're not required to have CS4 to benefit from this session. Many of the techniques I plan to cover will be applicable to users of older versions. However, if you just want to be up-to-date and all, feel free head over to the Adobe Store. You can buy your upgrade and download it on the spot 🙂
When and where? R.S.V.P.?
This first evening will be Tuesday, March 17 @ 7PM E.T. and it will take place via Adobe Acrobat Connect Pro. Here's the URL: http://my.adobe.acrobat.com/eveningwithterry
Sign on as a GUEST with your real name. While there is no pre-registration required, this session will be limited to 100 attendees. So it's first come, first served. I advise you to log in 15 minutes before the 7PM start time as I plan to start on time.
Will you be able to ask questions?
There will be a Q&A session at the end. You will be able to submit your questions throughout the presentation in the Q&A pod. I will address as many of the submitted questions as I can at the end. Although I plan to end the presentation part within one hour, I will probably be able hang out a bit afterwards to continue answering questions. This will give people that only have an hour the chance to see the entire presentation before having to leave.
What you will need to participate
If you're reading this blog, you probably have the necessary equipment to watch this session. You will need a computer (Mac or PC) with a web browser, a high speed internet connection and the Flash Player. The audio will come through your computer's speakers. That's pretty much it! There is no software that you need to install. If you want to make sure that your computer and internet connection are up to par, you can run this test. Although the last part of the test checks to see if you have the "add-in", it's not necessary to have it for this session. Go ahead and run the test now so that you'll be ready in time for Tuesday. Also keep in mind that if for whatever reason your connection is not up to par or it's not going well for you, there's nothing I can do about it on my end and please accept my apology now.
What if you can't make it or you're 101st person?
If all goes well, this session will be recorded and I will post the link to it the next day on my blog. So if you can't attend or if you don't make it into the session due to a large turnout, you will be able to enjoy it afterwards at your leisure.
Why am I doing this and what's next?
Although I can post videos anytime I want on my Adobe Creative Suite Video Podcast, nothing beats live interaction. I like talking with customers and this will give me real-time feedback.  If this goes well I will do it again with different topics. If not, well we can't say that I didn't try. 🙂 See you on Tuesday!