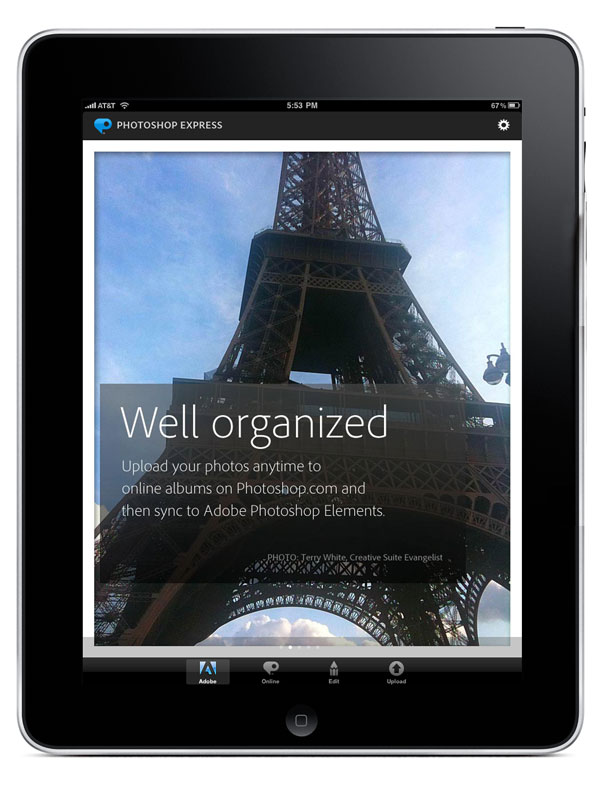 Adobe just released an update Photoshop Express (formally called Photoshop.com Mobile) App for all iOS devices! Besides being a great App, I'm stoked to have my photos featured on the Adobe tab 🙂
What's New In Version 1.3
• Initial support for iPad
• New name: Adobe® Photoshop® Express
• Updated UI
• Bug fixes and performance improvements
Features specific to iPad:
• Support for portrait and landscape orientations
• Redesigned Online, Edit, and Upload workflows
• Ability to work on multiple photos in sequence from within a single workflow
• Redesigned Organizer view with simplified album sharing
• Updated icons and visuals that make it easier to navigate and use the Editor
• Ability to upload to Photoshop.com and Facebook simultaneously
one small bug: Although everything seems to be working great on the iPad, I did run into one bug while launching the app in landscape mode with the Adobe tab chosen on the iPad. So if you have a crash just launch it in portrait mode first. If you switch to any other tab, say the Edit tab for example, you should then be able to launch the App in Landscape mode just fine. I've already reported the bug and it appears to be related to other Apps (in my case ePrint) trying to hi-jack the sample images.
UPDATE: The 1.3.1 update is now available that fixes the iPad landscape launch crash and other bugs.
You can get Photoshop Express for iPad, iPhone and iPod touch as a FREE download here from the
This update is also available for Droid owners too!
I recorded this video to walk you though some of the features AND I've got a tip for using the iPad Camera Connection Kit:
httpv://www.youtube.com/watch?v=vvnNfJIwSug