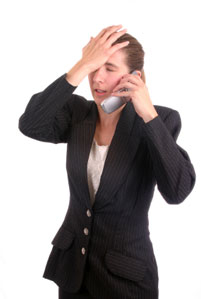 I'm not one to complain a lot. I count my blessings every day. I also understand how business works (most of the time). However, sometimes I run into a situation that boggles my mind. You may remember my review of the HyperMac External Battery a few weeks back. As a matter of fact I bought it for the trip that I'm on right now. Although my initial calculations seemed to suggest that I would have enough battery life for the long plane ride(s), I wanted to make sure by going with the next model up ($100 more).
By the way, the battery did last the whole trip! It's amazing!
Don't you want my money?
I emailed the customer service guys over at HyperMac and explained that not only did I like their product, but I liked it so much that I wanted a larger one. My hope was that since I hadn't really used it yet (other than the one day of testing), that I could simply exchange it for the next size up and pay the difference. I ordered it on 7/24/09 and sent the request to trade up on 8/15/09. I was actually kind of shocked by the response:
Hi.
Your return period lapsed. We can allow a trade up if the product is still in the original shrink wrap.
Thanks and regards,
Jonathan
Customer Care
www.hyperdrive.com
Now don't get me wrong, I understand that companies have limits on returns. I also understand that since the battery had been used, they couldn't sell it as new to the next person. However, I wasn't trying to get my money back, I was actually trying to give them more money for the next version up.
No option to pay a restocking fee
No option for a discount on a second one
No options at all other than for me to not spend any more money on this item.
Oh well. Life goes on.