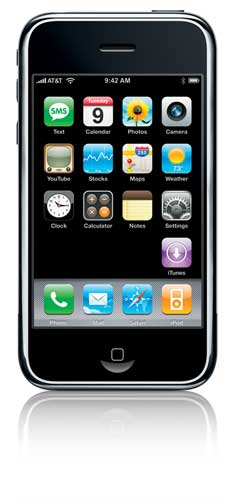 While I still feel that the iPhone is absolutely the best phone/PDA I've ever seen or used, I've always said that there was room for improvement. So I started a list of things that I would like to see in future iPhone updates. Sure we'd all like to see a 16GB, 3g, GPS enabled, user removable battery, officially unlocked iPhone, but that would require new hardware. What I'm proposing are 50 things that would make the existing iPhone better and these things CAN be done via software/firmware updates.
Top 50 Wish List for Future iPhone Updates:
1 – Ability to use My OWN ringtones (sounds, music, etc.) The iTunes store will NEVER have some of the sounds I want to use.
2 – Sync Notes to the computer (probably coming in Mac OS X 10.5 Leopard)
3 – Cut/Copy Paste system wide
4 – Email anything (besides notes, photos URLs) Contacts, maps, directions, voicemail messages as attachments, etc.
5 – MMS (Multimedia Messaging – send pictures/movies directly to another phone)
6 – Consolidated Mail inBox and an easier way to jump between accounts than going back, back, back
7 – Flash support in Safari
8 – Video and Voice (Memo) Recording
9 – Color coded or Separate Calendar views (just like iCal does today)
10 – Searchable Contacts
11 – To be able to assign ringtones to groups of Contacts
12 – Wireless Syncing iPhone to Computer over Bluetooth or Wi-Fi
13 – Voice dialing
14 – Dial-up Networking (use the iPhone as a modem)
15 – iPhones on AT&T corporate plans (discounts or not, I shouldn't have to setup a personal account to use the iPhone on AT&T)
16 – Landscape Keyboard entry in all the apps
17 – Additional Audio email attachment support for files in Vonage (u-LAW encoded) WAV format
18 – Email to a group of Contacts
19 – iChat/AIM client built-in
20 – Calculator CE (clear entry) key
21 – Native Microsoft Exchange support (MS Direct Push or 3rd party support).
22 – Wireless stereo music playback over Bluetooth and AirTunes
23 – A one button Redial feature (example: triple tap the Home button)
24 – A "Dialed" list in addition to "Recent" and "Missed Calls"
25 – Ability to play music directly from the Slideshow feature
26 – Built in Unit Converter
27 – To Do's, sync'd with iCal/Outlook
28 – Password/Pin protected Notes
29 – An option that lets me choose what screen I land on when I wake my iPhone; it can either be (a) whichever I screen I was at last, like it does now, or (b) I can choose to always start at another screen (like the phone favorites, or the Home, etc.).
30 – Being able to rotate Mail like Safari 90 degrees
31 – Keynote app (now with TV out, you could use your iPhone for slide presentations without needing your laptop)
32 – Pseudo GPS based on cell towers to tie in with Google Maps feature
33 – General file storage like a USB drive (Enable iPhone as a Hard Drive)
34 – Support for Stereo Audio over Bluetooth headphones
35 – Support for a Bluetooth Wireless Remote AND the ability to use the iPhone as a Remote
36 – Sound Profiles (example: I would create a profile that turns off all sounds except incoming calls for traveling)
37 – Auto dialing of a string of numbers/pauses (ie. you dial your company voicemail and tap a button to dial your ext. and pin)
38 – Built in "Movies" widget (show times, buy tickets, trailers) Yes I know there are good web based ones. Having one built-in would be faster to access and could remember your settings.
39 – Safari password remember/store feature (Keychain for the iPhone)
40 – Multiple email signatures (also the ability to assign default ones per account)
41 – Mail spam filtering
42 – Mail Rules
43 – Full Bluetooth support on the Mac (Browse the device, dial from Address Book, etc.)
44 – Delete multiple items at once such as emails
45 – iPod songs as Alarm sounds
46 – A true RSS reader (the one in Safari desktop would be a good start)
47 – Call duration display
48 – SMS to multiple Contacts
49 – .Mac Push Email
50 – The ability to direct ALL of the Audio sources over Bluetooth (such as email attachments, audio on web pages)
51 – Built in Dictionary/Thesaurus
OK I lied, I have 51 things that I would like to see. So here's the thing. While it's great that I've shared these ideas with you, we really need Apple to see these ideas. So if you read the list above and were thinking, "yeah, that would be cool", then head over to Apple's iPhone Feedback Page and make your suggestions known. Knowing how software development works, project managers make a list of the top requested features and usually that becomes the basis of the next or future updates.
iToner is working again
The great folks over at Ambrosia Software have managed to update iToner to work with the latest iPhone 1.1.1 software and I'm VERY HAPPY to have my custom ringtones back. If Apple would leave these guys alone then that would be one thing that could come off my list above.
Native apps on the horizon
It's great that Apple has announced an SDK is on the horizon and will allow 3rd party developers to create apps for the iPhone. In the meantime Apple has published a list of web based apps, many of which are quite good.
Competition is good
It appears that Amazon.com's new DRM Free MP3 store has given Apple a wake up call and Apple recently announced a price drop of their DRM free (iTunes Plus) tracks which used to sell for $1.29 each and now are only 99¢ which is where many felt they should have been from the start.