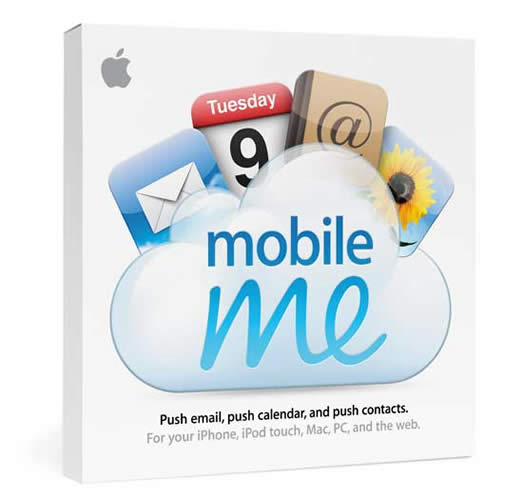 Apple took a bold step and made a major claim with its new online service MobileMe (formerly known as .Mac). They billed it as "Exchange for the rest of us". Now it seems that they have kinda backed off that claim. As a matter of fact I can no longer find the reference on the MobileMe site. Apple has also had to clarify that changes don't happen on your Mac or PC instantly, they happen every 15 minutes at best. When Apple first showcased MobileMe at the WWDC, they lead the audience to believe that MobileMe was instantly updated everywhere (true "Push" technology) when you made a change in one place, the change happened moments later everywhere else. That's just not the case, at least not on your desktop. That really doesn't bother me. I can wait 15 minutes and chances are, if I'm out and about making changes to calendars and contacts on my iPhone, I'm not looking at my Mac anyway to see when the changes take place. No, I actually have other issues with MobileMe…
 
MobileMe – 2 steps forward and 3 steps backwards
I'm ok taking the bad with the good, but in this case there doesn't seem to be any good reason to have the bad. With .Mac I already had syncing of Contacts, Calendars, Bookmarks, and other info between computers. With MobileMe I now get that, plus having data pushed out over the air to my iPhone 3g. Great! If I make a change on my Mac (or PC), the change automatically gets syncing up to the "Cloud" (MobileMe), where I can view it on the MobileMe website (www.me.com) or moments later on my iPhone. If I make a change on the web or on my iPhone, within 15 minutes the change happens on my Mac. Cool! I welcome this kind of wireless connectivity with open arms.
However, as a former .Mac user I can't help but wonder why Apple chose to eliminate a couple of things that were already in place. For example, on Monday I went to send a friend of mine an iCard for her birthday. That's when I realized that iCards didn't make the cut over to MobileMe. Granted Apple probably had to license the images for the iCards and hey, this is an expense that could be cut, but there isn't even the ability to make an iCard using your own photos anymore. Sure, someone could argue that with Leopard Mail we now have Birthday Stationary and I could use my own image there (which is what I ended up doing two days later), but the point is there was really no reason to eliminate this ability from the website.
The next thing that got lost in the transition is the ability to view your Bookmarks on the MobileMe website. This one is way more puzzling than the loss of iCards because Bookmarks ARE sync'd up to MobileMe. So why not offer the ability to see them and use them on the MobileMe website? This was a very handy feature of .Mac. It saved my butt on more than one occasion. I remember being in my eye doctor's office and telling him about a site that sold prescription swim goggles. I couldn't remember the URL. So I asked if I could use his PC? I logged on to .Mac via his IE browser. I brought up my bookmarks and went straight to the site. Perfect! Yeah I know, I now would be able to just bring up the site on my iPhone, but again if the Bookmarks are already in the Cloud, why not offer the ability to see them?
 
Calendars, Calendars, Calendars!
Besides missing a couple of features of .Mac, there are some other fundamental problems I have with MobileMe and they revolve around calendars. It's great to finally be able to see my iCals on the web without having to "publish" them. It's also great to have them pushed out to my iPhone. However, what I want is more choices! As it stands right now, when you turn on syncing for iCal calendars to MobileMe, it's an all or nothing proposition. I have a couple miscellaneous iCals that I DON'T need sync'd up to the "Cloud" or to my iPhone. More importantly, there are family member, holiday and non-profit organization calendars that I subscribe to that I DO want on my iPhone. As it stands today, subscribed iCals can NOT be sync'd to MobileMe and therefore are NOT pushed out to your iPhone. It even treats the built-in "Birthdays" iCal as a Subscribed calendar and therefore you don't get your birthdays on your iPhone! The only way around this is to NOT use MobileMe for your iCals. However, then you lose the ability to have your calendars pushed out automatically and the only updates you would get would be when you physically connected your USB cable and did a sync (a step backwards). Also if you have a corporate Exchange account configured for your work calendar (which I do), you lose the ability to sync your iCals via iTunes/USB, so you have no choice but to use MobileMe if you want to keep your personal appointments separate. The service is too much about "me" at this point

There also still doesn't appear to be a way to view files from your iDisk via your iPhone. For example, the iDisk would be a great place to store sensitive data that you don't want on your actual devices. You could log in to your MobileMe account with your password via the Safari browser. It would be great to then be able to view PDFs and other compatible files via your iPhone.
 
The Bottom Line
MobileMe has promise. I believe that Apple will work out these issues in time. However, I would be hard pressed to recommend MobileMe at this time to anyone that has more than the most basic needs. MobileMe goes for $89.99 at Amazon ($99/year list price) or $129.99 for the Family Pack ($149/year list price).
 
Update: I just got this email from Apple: