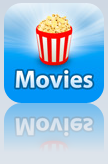 As we enter the official summer blockbuster movie season I'm relying more and more on the apps on my iPhone to give the latest and greatest movie info and showtimes. I've choosen "Movies" by Flixter as my iPhone App of the Week this week because it seems to the closest app to offering all the things I want. You would think it wouldn't be that hard to come up with a movie showtimes app, but I've got 3-4 of them on my iPhone at any given time. That's because each one offers something that the others don't offer or each one has a better user interface in one area or another.
–
Here's what I want…
show times – this is the main reason for the app! So I want to launch it and get to the showtimes for the movie I want to see as quickly as possible. I hate it when an app makes you click through an ad to get to this info. I'd rather just pay for the app then to have to deal with ads that get in the way of functionality. Also only list times that haven't happened yet for that day. Don't show movie times that have past.
ratings/rankings – I need know what the movie is rated (G, PG, PG-13, R, etc.). It's also nice to see how it's rated/ranked by those who have seen it already.
Location based – of course the app needs to take advantage of Location Services. If I'm traveling, I want to know about the movies playing around me.
Favorite theater – when I'm not traveling, I go to the same theater about 99.9% of the time. So I really just need to know quickly what time is the movie that I want to see playing at my Favorite/Default theater.
Trailers – Movie trailers are nice if they are fast. Half the time I get bored waiting for the trailer to load. Chances are I've already decided on the movie I want to see anyway. So trailers are cool, but not a deal breaker.
Little to no Ads – Like I said above, given a choice of ads or pay for the app, I'd opt to pay for the app not to have to see the ads. I know that free apps are often subsidized by the advertising in them, but unless the ad is a banner ad that doesn't get in the way of how the app works, I'd just rather not have them period. Whatever you do don't make me have to watch a full screen ad before I can get to the info that the app provides. That really grinds me the wrong way!
Map to theater/directions – If I'm on the road, having a link directly to built-in Maps app is key. This way I can not only see the closest theater, but also see how to get there from where I'm at.
Buy tickets – oddly enough there's only one app (Fandang0) that supports buying tickets at my closest/favorite theater. The other apps allow for ticket purchases, just not at my theater. Buying tickets via the app is nice, but what would really make me use this feature a lot more is if there was a way to buy the tickets online via the app and either print them or email them to my computer for printing. I would love to print the movie tickets before leaving the house and just go straight to the ticket taker person.
Add movies to my Netflix queue – Usually when I'm sitting there before the movie starts I'm watching the trailers for other movies that are coming out. Many times I'll see a movie that I'd like to see, but know that I won't see it in the theaters. So I like to add it to my Netfilx Queue right then and there while I'm thinking about it.
–
Bonus Features/Nice to haves – these are not deal breakers, but nice to have features:
email show times to friends – if you're going to the movies with friends, it would be nice to either email or SMS the movie times so that you can all pick a time and meet up at the theater. If you're going to have this feature, I guess you'll also need the ability to email the map/directions to the theater too.
See upcoming movie/DVD releases – It's nice to be able to see what movies are coming to the theaters or DVD/Blu-ray on which dates/weeks.
Facebook, Twitter integration – usually after I see a movie, I want to either tell people how great it was or how much it sucked! So having the ability to rate the movie and instantly post that rating on Twitter and/or Facebook is a plus.
Concession Stand Ordering – How cool would it be to also place your food order (fill out the mortgage app first) before getting to the theater so that you can just pick it up when you arrive and walk straight in with your printed tickets too.
So out of all the things I want above, Movies comes the closest and seems to be the one I tap on first most times. I just fired it up to see how quickly I could get to the show times for Star Trek at my favorite theater. The first thing it hit me with was the option to play the trailer: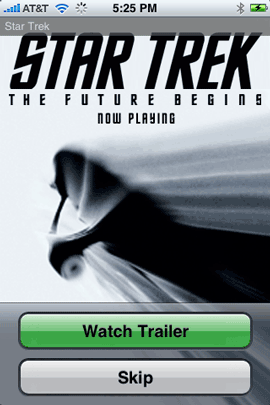 When I hit "Skip" it took me to the Box Office Screen to show the list of movies Opening this Week. Star Trek was at the top of the list. Cool, but I already know the movie I want (Star Trek) and I know which theater I want to see it at.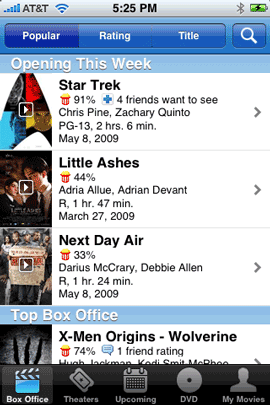 So I taped the Theaters button and my favorite theater is at the top of the list (good!)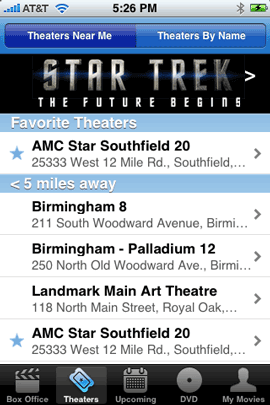 I tapped my favorite theater and then it showed the list of showtimes and I scrolled down until I found Star Trek.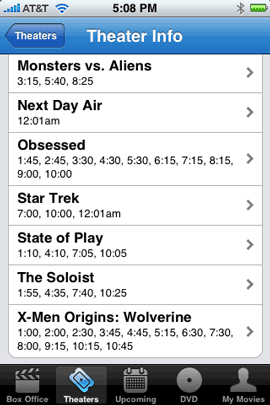 Mission Accomplished! However, call me silly, but shouldn't I be able to set a default that just takes me right to this screen every time I launch the app? I mean after all, I'm usually going to the same theater when I do go to the movies. I usually know what I want to see and I'm really just launching the app to see what times the movie is playing? That's how this app could be better! That's how all of the movie apps could be better. Let me set my landing page and let me get there with one tap! Before these apps were available I used to use a Web Clip to the mobile Fandango site for my theater and son of a gun, it launched Safari and took me right to the page for my theater listing the current times. I want the native apps to do the same thing. Then if I want to do more like see trailers, see other theaters, see other movies, etc. I can choose to do those things. Just for kicks I recreated my Web Clip for my favorite theater and timed how long it would take to get me right to the times for Star Trek. It was on screen in about 7 seconds. I had to tap one more button to get to the next page where the Star Trek movie was listed. Otherwise it would have been more like 5 seconds.
–
The Bottom Line
Like I said, Movies is probably the app I use the most. But it's not the only App I use because there are other apps on my iPhone that do some things better. I do recommend Movies as it's the most popular and closest to everything I want. However, I also recommend looking at iTV (more than just movie listing and offers Netflix management and TiVo scheduling too. iTV is a KILLER app and it would be my first choice if it were faster. I use it more for TV listings which is what it really excells at!), OneTap Movies, which was my first favorite movie app and Fandango, which has a ways to go in the interface and features department, but it's the only one that actually lets me buy tickets at MY theater.
You can download Flixster Movies App here from the App Store. It's FREE and works on the iPhone and iPod touch.
All of the Apps I mentioned above are FREE and therefore you should try them all out and see which one you like best. Perhaps at the end of the day I'd use a web clip to quickly get to show times and the Movies app for everything else.