One of the questions I've been getting a lot lately from friends and family is, "what's different about the iPhone 3g?" I simply respond "faster data." That usually works and is sufficient. Sometimes I get blank stares. So I have to go into a little more detail. So if you just gave your computer a blank stare, let me explain. The original iPhone worked over AT&T's EDGE data network. Speeds for things like web surfing, email, YouTube videos, etc. was faster than dial-up, but paled in comparison to DSL and Cable.
The iPhone supports Wi-Fi, so whenever you can be on a Wi-Fi network, the experience is MUCH better. One of my favorite speed test sites is speakeasy.net/speedtest/, however, this site uses Flash to display the results, so it's useless when it comes to testing the iPhone's speed. Instead, I use bandwidthplace.com.
Apple claims that the iPhone 3g is twice as fast as the previous model. However, by most people's estimates, Apple is being modest with this claim. I decided to put it to the test. So I used my iPhone 3g in all 3 modes. First I tested it by turning off Wi-Fi and 3g. After a few moments the iPhone connected to AT&T's EDGE network and here's what I got: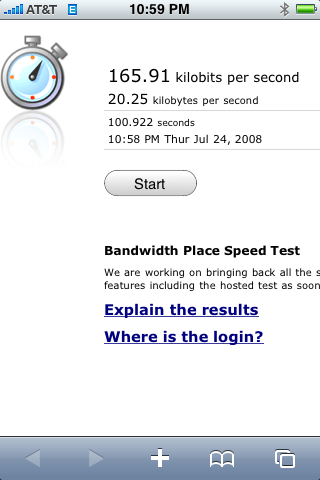 Then I turned 3g back on and restarted the iPhone so it would have a fresh start and here's what I got: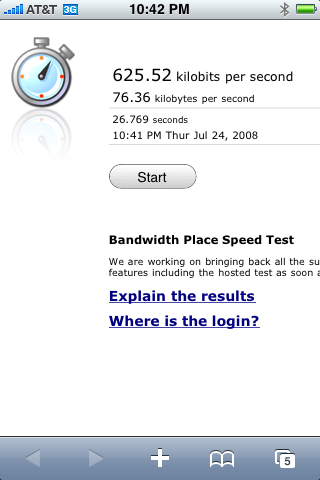 Not too shabby! Clearly better than twice as fast. However, this is just raw speed. Your mileage may vary from site to site in Safari. This is probably why Apple says "twice as fast." It's a safe claim that they can achieve 100% of the time.
Next I restarted the iPhone again and I turned Wi-Fi back on. The iPhone is connected to my Wi-Fi network (powered by cable modem). Here's what I got: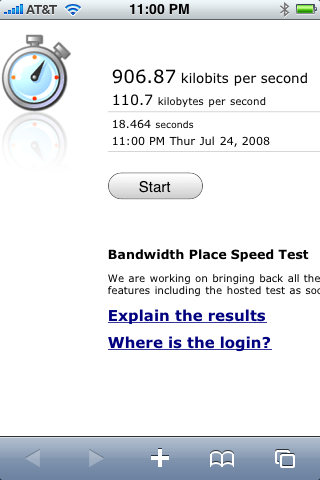 The Bottom Line
Yep, the iPhone 3g is faster! Easily twice as fast if not more. Um, not much more to say. Have a nice day