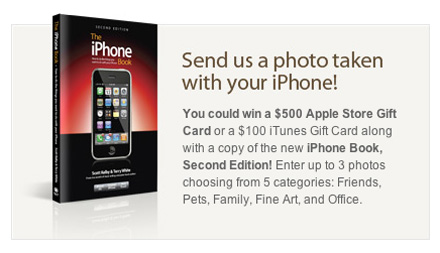 Today is the last day to submit your iPhone photos for the iPhone Photo contest!
In celebration of my new book,  The iPhone Book 2nd Edition we're kicking off an iPhone Photo Contest! That's right, you could win valuable prizes by submitting your best photos taken with your iPhone's built-in camera.
You can enter up to three photos (total) taken with your iPhone (doesn't matter if it's the original model, or the new 3G).
There are five different categories; Friends, Pets, Family, Fine Art, and Office. The winner in each category gets a $100 iTunes Gift card and a copy of "The iPhone Book" 2nd edition.
The Grand prize winner gets a $500 Apple Store Gift Card, and a copy of "The iPhone Book" 2nd edition.
From the photos submitted by the deadline of Oct. 24, 2008, Scott and I will choose three finalists in each category, and then the public gets to vote for the winner in each category (the one getting the most votes wins). Then, from those Winners Scott and I will choose a Grand Prize Winner on November 3, 2008.
This may seem obvious, but of course, the photo has to be taken with your iPhone's built-in camera.
You can edit your photos using any iPhone application available from the iTunes Apps Store, or any other image editing application, but no other non-iPhone photos may be included in your entry (so you can't take your iPhone photo and composite it with a photo taken with your DSLR, point-and-shoot, or a stock photo).
You may not give your iPhone to Jay Maisel, Joe McNally, or Moose Peterson. Not even to make a phone call.
There is no entry fee, and the contest is open to everyone; You do not have to buy "The iPhone Book" to enter, but it certainly wouldn't hurt.
Whining of any kind, about anything, is strictly prohibited.
You can submit your photos, and learn more about the contest at the official contest site (here's the link).
I can't wait to see all of your cool shots. Good luck and happy shooting!