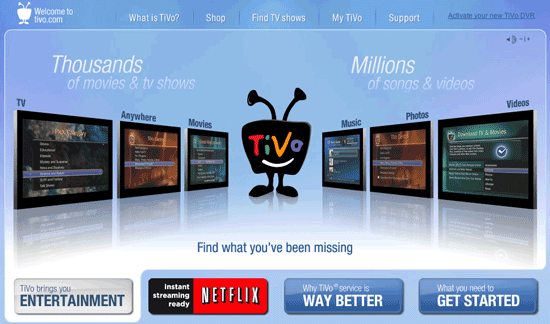 As an iPhone user, one of things I have had on my wishlist since the iPhone 2.0 software update was a "native" TiVo scheduler. While there still isn't a native iPhone app for scheduling recordings remotely, TiVo has created a mobile friendly version of their website (finally).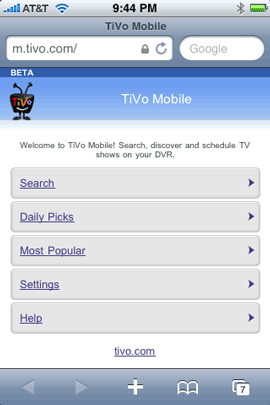 That's right, you can go to http://m.tivo.com from any mobile browser (or any browser period) and get a very streamlined mobile friendly version of their site. This mobile version is geared specifically for scheduling recordings on your TiVo Series 2 or TiVo Series 3/HD. 
 
Good start, but needs a little work
Let's start with the fact that I think the main TiVo site needs some work. So I'm not surprised that the mobile version is less than perfect. On the main TiVo site you have the ability to log in and actually see a full blown "Guide" of all the channels you receive and what's coming on several days in advance. From the guide you can either schedule one-time recordings or setup a Season Pass to always record your favorite shows.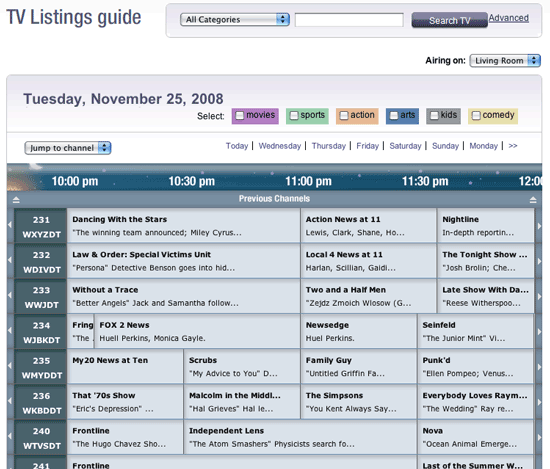 Of course if you know the name of the show you want to record, you can just do a search for it. The Guide is a good thing to have, but it's very cumbersome to navigate, and even worse on a mobile device. The biggest problem that I have with it is that you don't get to narrow the selection down to just your favorite channels (although this is allowed on the actual TiVo hardware). So I end up have to scroll hundreds of channels that I will never watch/use. 
The mobile version doesn't have a Guide at all. So the only way to schedule a recording is to do a search, pick from the Daily Picks or the Most Popular. This works well, but it brings up another issue (actually the same issue). Let's say I do a search for "The Unit".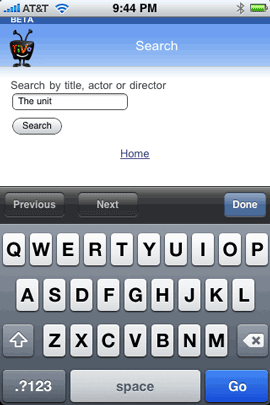 It comes right up (very fast performance so far), however, since I can't limit my search/account to just my favorite stations, it comes up with "The Unit" on channel 14. Channel 14 in my area is the old analog/basic standard def cable channel for CBS.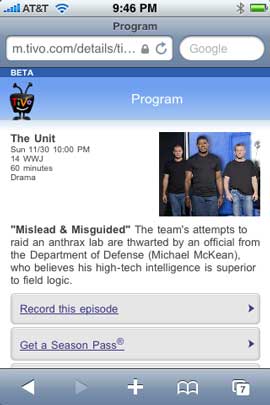 The channel I would rather record this show on would be channel 233, which is CBS HD in my area. I can choose to "view upcoming episodes" and it will then list the one I want on 233. This isn't bad as an extra step.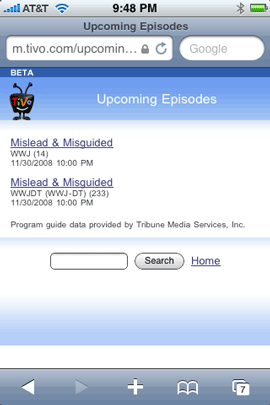 However, I ran into a problem trying to do a Season Pass this way. I did my search and then chose to create a Season Pass. I saw that it was using the standard def station, so I then chose to View Upcoming Episodes, selected the same show on the HD channel and then completed my Season Pass. However, when I checked my TiVo HD, it had in fact created the Season Pass using the standard def channel. So for now I will not be using the mobile version of this site to do Season Passes. I also expect this problem to go away one way or the other by February 2009 when all stations are required to broadcast in digital. I expect those old basic cable channels to go away and this this won't be an issue. The ultimate though would be for TiVo.com to just allow me to limit searches to my favorite channels. 
On a good note, I'm very happy that this mobile version seems to do a good job of keeping logged in. It's a pain having always key in a user name and password. The desktop version of the site can't even keep me logged in, so I'm pleasantly surprised that the mobile version can. I'm also happy that the mobile version allows me to choose which one of my TiVo HD's to record to.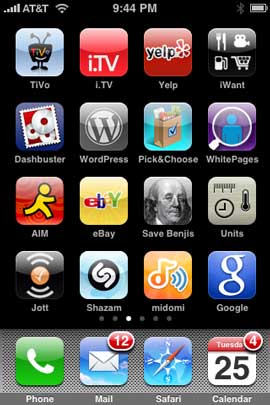 m.tivo.com added to the Home Screen
 
The Bottom Line
In all fairness, this mobile version of TiVo.com is listed as a "Beta", so perhaps they will take my feedback and make improvements. If you have a TiVo Series 2 or Series 3/HD and a mobile phone (doesn't require an iPhone), then you can't go wrong with giving it a try. Although I can pull up the full version of the tivo.com site on my iPhone, this mobile version is sooooooooo much easier and faster. As good as the Safari browser is on the iPhone, I wish that ALL companies would offer mobile friendly versions of their websites. It's just makes it easier and faster to get to the info we need. Less is more.