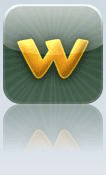 Woot.com is a long standing source for some really good deals. The way it works is that they post one deal a day. That's it! When that item is sold out, it's over for that day. The next day there will be another deal. Although I love to check and see what's the "Woot of the day", I don't always remember to check. While I can go to a Woot.com bookmark in Safari, it's even cooler to go to a native Woot app. 
 
WootWatch works great!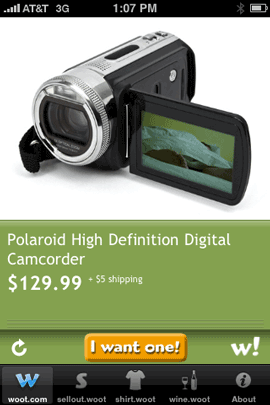 This app is very well designed and does exactly what you would expect it to do (for the most part). When you launch the app, it checks Woot.com for the latest deal. It displays the deal and detailed information about it. You can also see the deals from sellout.woot, shirt.woot, and wine.woot.
There is one thing I would have expected though. I actually tried to buy something via the WootWatch app and it took me to Safari (web browser) to make the purchase. While there's nothing actually wrong with that, the Woot.com site asks for your user name and password which I could not remember. By the time I got home, I completely forgot about the deal. So I missed out on this HD camcorder. One thing I like about 3rd party iPhone apps vs websites and web apps is that they CAN save your login info and password. It would have been great if this info could have been stored in the WootWatch app. Other than that, I really like this app and it helps me to not miss out on some good deals.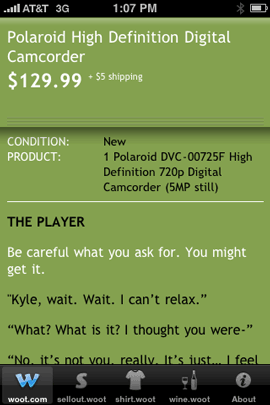 The WootWatch app is FREE and works on the iPhone and iPod touch. You can get it here from the App Store.