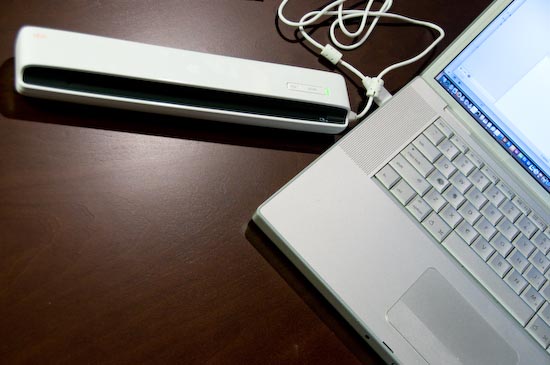 Having become a fan of the Fujitsu ScanSnap for Mac, I've been interested in having a more portable solution. One that would be small enough to take on the road if need be. While Fujitsu does over a smaller model, it's still costly at a list price of $295.
I was standing in Staples the other day looking at point and shoot digital cameras and the scanners were right behind me. I looked back and saw the NeatReceipts display. I was intoxicated by the small size of this scanner. Of course Staples was out of them and it was probably a good thing since there was a newer model available online anyway. When I got home I ordered the NeatReceipts for Mac version. Now make no mistake, this scanning solution is designed for DOCUMENTS, not photos. I already have a portable CanoScan scanner for photo scanning when I travel to see family. I wanted this scanner to serve as a portable filing solution.
When my NeatReceipts scanner arrived I unboxed it and installed the software from the CD. Of course there was a newer version available online and I downloaded that version and installed it. I then ran the simple calibration procedure and I was ready to scan. NeatReceipts for Mac won't win any races for speed. I was spoiled rotten by the Fujitsu scanner which is the fastest scanner I've ever owned. The NeatReceipts scanner only scans one side at a time and takes several seconds to scan an 8.5″x11″ page. Although slower than I imagined, it is still very acceptable. Had I never used the Fujitsu ScanSnap I wouldn't have given the speed a second thought. The bundled software is designed to be your electronic filing cabinet. Documents and receipts that you scan are neatly filed away in collections (which are in Libraries).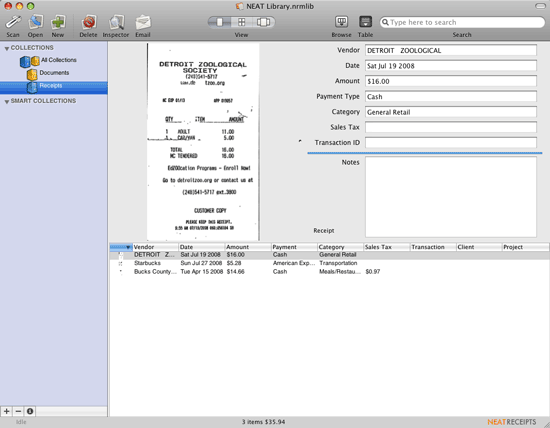 The NeatReceipts scanner scans everything to PDF on the Mac. So there is no need for any kind of interim format. Once the document is scanned it is automatically OCR'd which makes it searchable in Spotlight. You can also bypass scanning into the NeatReceipts library. Although the app must be running in order to use the scanner, you can press the PDF button on the scanner and scan right to folder of your choice. It just pops up a dialog box asking you to name and choose the location for your scan that you're about to perform. However, even if you do scan into their library app you can drag and drop a scan (PDF) from it to anywhere else on your drive including right into an email.
 
Scanning receipts
It's clear to me (even by the name) that NeatReceipts was designed to scan receipts for the busy traveler or business person. The interface is designed to scan a receipt and then automatically detect things from the receipt such as price, business name, type of credit card used to pay, etc. It does an OK job at auto detecting this info and then filling it in on the right. Even when it doesn't guess right (leaving a field empty) you can drag and drop lines of type from the actual scan into the fields as needed. Since it OCR'd the receipt, this is live text. When I scanned a couple of receipts as a test it seemed to scan more area around the paper than was needed. Luckily there is a crop feature, but it is 2-3 clicks to get a scan cropped. I would like to see a better auto page edge detection in the upcoming version.
 
Scanning documents
I scanned a couple of 8.5″x11″ documents. One was a simple letter and the other was a photo copy of a flyer that had photos on it. When scanning both documents using the hardware button on the scanner, it produced grayscale images of both. Clearly the letter could have been scanned as a black and white document. By scanning it as a grayscale, the resulting PDF was 2.8MB in size. I scanned the same letter using the software which allows you to specify "Scan Black and White document" and the resulting PDF was only 976KB. So it seems that you'll get the best results by picking the appropriate option in the software as opposed to using the hardware buttons. Also there doesn't seem to be any command keys for choosing the various types of scans. You have to go up to the Scan menu and then choose the appropriate option based on your needs:

 
How is the Mac version?
Neat Receipts for Mac is an "Advance Release". In other words, this version is not yet complete with everything they intend to include. For example, the Windows version includes software to automatically convert scanned business cards into text directly going into your PIM (personal information manager). The Mac version doesn't have that yet. NEAT Receipts for Mac was developed in the Apple programming environment (Cocoa) to provide an easy to use, functional interface that looks and feels like the applications you use every day. Seasoned Mac users will feel right at home using the intuitive design and those who have recently switched from PC will get accustomed to the interface in no time. NEAT Receipts for Mac does not yet match the NEAT Receipts PC version feature-for-feature but it includes some new features available only on the Mac such as drag-and-drop functionality, Image Flow (their version of Cover Flow), Smart Collections and more. Therefore NeatReceipts for Mac ($179.95) is cheaper than the Windows version ($229.95). They are promising full feature parity in early 2009 as a free update.
 
The Bottom Line
If you're looking for the smallest document scanner you can find that is USB powered, I think this is it! It's easy to use and works cross platform on Mac and PC. While it's not as fast as other scanners out there, it is smaller than everything else I've seen easily fitting into a laptop bag. It also costs less than the competition. NeatReceipts for Mac goes for $161.85.